Here you can find some interesting startup news from Indonesia, not only in its capital, Jakarta, but also other their tech startup hubs such as Yogyakarta, Medan, Surabaya, and many more. These listed news are taken from our partner, DailySocial, a leading blog on Indonesia's tech startup scene.
(1) Buku resep is a recipe book app. It has a list of more than 90 recipes of various Indonesian dishes from across the archipelago. The app was actually launched on June 29 and since July 7 has been holding on to number 9 of the top 25 paid apps in the Indonesian App Store.
(2) Doni Ismanto, a journalist for Jakarta Daily newspaper, was informed by internal source that the acquisition reaches US$60 million in value for total ownership of the largest news media portal in Indonesia.
More about Indonesia tech startup scenes (below excerpts are translated by SGE team, while the full article is in Indonesian)
(3) Peter Pezaris, founder and CEO of Multiply, said that Multiply will still serve as blog platform while they shift their focus to e-commerce. Moreover, he believes that e-commerce will grow in Indonesia, one of the reason he chose Indonesia as the first few countries.
(4) Detik.com launched the "Masak Apa" application for Blackberry, Android and iPhone. The app is free to download.
(5) Bistip.com, a local storage facility matchmaker, changed their user interface website, providing an API for third parties who want to use their BisTip service and other facilities such as insurance and item-oriented facility.
(6) To welcome Ramadan, people in Indonesia, particularly Jakarta, do not need to experience traffic jams at Tanah Abang and ITC to get nice muslimah clothes. HijUp.com, founded by Diajeng Lestari, offers an e-commerce platform for to shop for muslimah clothes.
(7) Joborobo.com, an online recruitment website, fulfills the needs of companies who want to have an integrated system, i.e. IQ test, before the job-applicants is called for an interview.
(8) JogjaHub is a geek database in Yogyakarta. It solves problems faced by many undeveloped tech-based business ecosystems, namely, an imbalance in the supply and demand of talents.
This has been brought to you by SGE and DailySocial. DailySocial is a blog that covers the Indonesian tech startup scene. They publish in both Indonesian and English.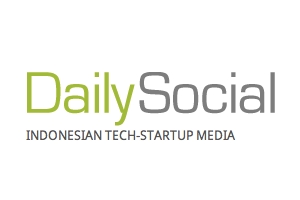 Thank you to nordicfactory for the flag image.