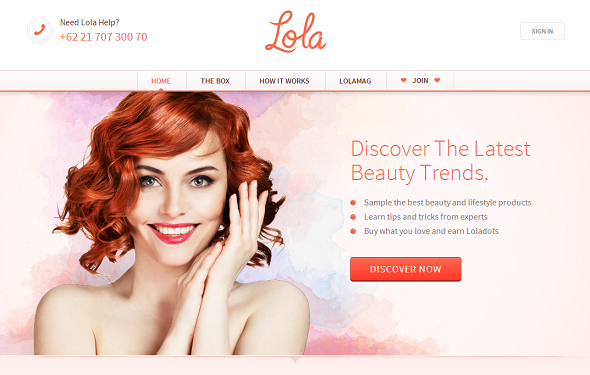 News has hit this week that Indonesia has become the new battleground for beauty box companies — a type of subscription service where customers receive a box of cosmetics samples on a monthly basis.
Singapore's VanityTrove is believed to be the first to enter the country, followed closely behind by Lolabox, started by two former Rocket Internet employees, and BeautyTreats. Both competitors launched officially yesterday to much fanfare from the tech press.
While their entry into Indonesia is good news for consumers who have been clamoring for such services in the country, there are legitimate reasons to be skeptical about their success.
It all starts with the fact that Rocket Internet's very own GlossyBox has avoided Indonesia and its surrounding countries like a plague.
Those familiar with Rocket Internet will know that it is an extremely data-driven company. So the higher-ups, for whatever reason, have decided that the upside of doing a beauty box service in South Asia is not worth the investment.
That's why GlossyBox left Australia after a brutal battle, and exited Taiwan by selling their business to VanityTrove. And they didn't even touch Southeast Asia.
The math probably didn't add up.
As much as Indonesia is a rising star for e-commerce — which is why the Samwer Brothers have kept Zalora and Lazada active in the country — there are two obstacles that could prevent a beauty box company from attaining much traction:
1) Logistical problems
Like any e-commerce venture, a beauty box service is logistics-intensive. To keep subscribers happy, VanityTrove and its ilk must figure out a way to deliver boxes to not just customers in Jakarta, but all around the vast country, which has over 17,000 islands.
It's not just about reaching the destination: Couriers must ensure that the box gets to the customer on time and in perfect condition.
As it stands right now, Indonesia's e-commerce players believe that the country's logistics infrastructure is not up to scratch. There are not enough courier services around, and the ability to pick goods up at the convenience store doesn't cut it since that eliminates one of the benefits of subscribing to a beauty box service in the first place — having cosmetics delivered to your doorstep.
Not only is logistics in Indonesia inefficient, it's expensive too. A journal article points out that trucking in the country could cost up to 34 cents a kilometer, and up to 50 cents if it's transportation by sea or air. That's the highest rate in ASEAN.
Of course, one cannot touch on e-commerce in Indonesia without talking about its underdeveloped payment infrastructure. I'll leave that to someone else.
2) Affordability
Analysts are hyping up the rise of the Middle Class in Indonesia and how women in the country are having more disposable income to spend on cosmetics.
The country's cosmetics market is indeed substantial: Valued at USD 1.5B in 2008 by the US Commercial Service, it is the fifth largest in Asia after Japan, China, South Korea, and Australia. Women are spending more on cosmetics, be it a website account manager earning USD 1,500 in wages a month or a domestic worker with a USD 200 monthly salary.
But these numbers are spread out over a large population size, which means that compared to South Korea, Japan or even Singapore, women don't nearly spend as much on beauty products per capita.
Here's a crude comparison: Indonesia, at 242M strong, has almost 50 times the population size of Singapore, yet its cosmetics market size is only four times bigger.
This might not be a problem if beauty box companies price their services cheaply. However, a VanityTrove subscription costs consumers IDR 180,000 a month, or about USD 18 — slightly cheaper than what VanityTrove charges in Singapore. Lolabox, meanwhile, charges a slightly more forgiving IDR 145,000.
Somebody has to bear the burden of high business costs, and often, the sword falls on the consumers.
Not an impossible market
Of course, VanityTrove, Lolabox, and BeautyTreats might possess the wherewithal to crack the Indonesian market.  VanityTrove is in a good position to succeed since it has the most experience in this business and already has a steady stream of revenue in multiple countries.
Lolabox, meanwhile, is started by a couple of ex Rocket Internet employees. But while they may be able to bring on board the data driven and aggressive approach of their formal employers, they'll still need to learn a new business model from scratch.
Both were from FoodPanda, a food delivery business with no inventory and little logistics to speak of (if my assumption that restaurants handle most of the delivery holds). Subscription commerce is a vastly different game.
However, the underdeveloped status of Indonesia's e-commerce economy could signal strong future growth, if it could get its payments and logistics infrastructure in order and if it could continue to strengthen its Middle Class.
So it might be a matter of securing enough funding to tide through the rough initial years en route to profitability.
One benefit of the subscription commerce model, however, is the ability to generate revenue quickly to extend the runway of the company.
BeautyTreats, for example, amassed over 900 members in short order. Assuming they're each paying USD 15 a month, that's a monthly revenue of USD 13,500 generated by the company — not a bad start at all.
Now, assuming they do the business the right way, which means building good relationships with beauty brands and getting cosmetic samples at no cost, they would certainly have a recipe for a sustainable startup.
Then comes the matter of finding out exactly how large the addressable market is, and whether customers will get bored of the concept and treat it as a fad.
But that's a bridge we'll cross another day.