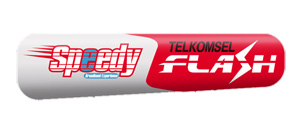 Internet service provider PT Telkom Indonesia is offering a new package called SpeedyFlash. The service is a combination of Telkom's fixed Internet service and mobile broadband from Telkomsel Flash.
The SpeedyFlash program was launched in Jakarta on Wednesday and allows customers of Speedy and Telkomsel Flash to enjoy Internet service with one payment at a lower cost. The connection is also stronger and more stable both at home and while on the go.
The speed, however, still leaves much to be desired especially if you compare it with other nations. SpeedyFlash's connection speed ranges from 512Kbps to 3Mbps. In contrast, world leaders Korea and Hong Kong which have 13.7 Mbps and 9.4 Mbps respectively. The world's average sits at 1.9Mbps. Nonetheless, SpeedyFlash is perhaps the best you can get in Indonesia, starting from US$17 per month.
With this new SpeedyFlash support, Telkom Indonesia hopes to add one million customers in 2011, a 30 percent increase compared to last year's figure. With the growing need for Internet services and the development of social media, Telkom and Telkomsel hope that SpeedyFlash will solidify their status as leading Internet service providers in Indonesia.
via Investor Daily