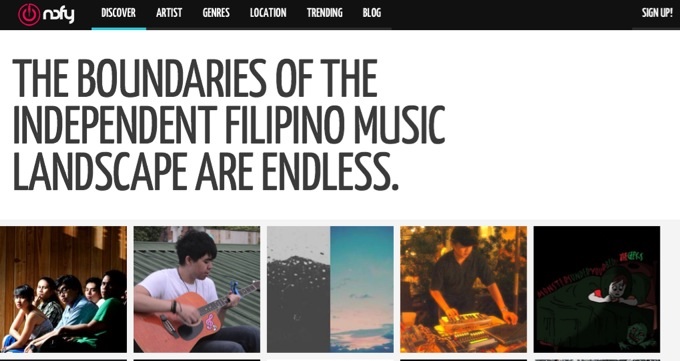 We have seen a number of music apps pop up in Asia. Now the Philippines contributes, too, as new music web-based platform NDFY (Update: pronounced as indie-fy) comes in to help local indie music artists get discovered.
NDFY's Glen Macadaeg says the NDFY team had been immersed in the independent music scene themselves professionally when they noticed that there were many talented musicians outside the mainstream that were struggling to gain visibility. Hence came the idea of building a platform for indie musicians.
NDFY launched its beta in December 2012. The app streams songs by indie artists in your browser, thereby allowing users to discover new bands and tunes. Over 160 artists are featured on the site to date.
Glen says the site has an average of around 20,000 monthly page visits, 50 percent of whom are them regular visitors. The startup also plans to roll out a paid download feature to help indie artists generate more income from their music. NDFY will hand over 70 percent of the revenue to the artist and pocket the other 30 percent.
Glen is also optimistic that "there are a myriad of possibilities to earn." But it wants to focus first on making NDFY one of the leading online platforms for independent Filipino music.
Apart from NDFY, Amplify is another startup that shares this same goal. These startups are relatively new in the Philippines. We also noted earlier the possible reasons why music-inclined startups may not succeed. While it is true that indie artists will benefit from such platforms, we have yet to see if this will be further embraced by the public.
(Editing by Paul Bischoff and Josh Horwitz)