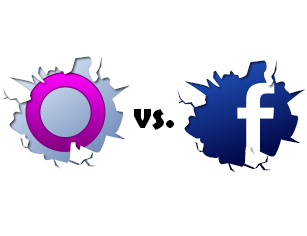 In my previous post on Social Media in India: Statistics and Insights, I wrote about the top social networking trends in India. The article highlighted the importance of social media marketing and why brands should use social media to their advantage in India. Now, I will take you further as I analyze the top 2 social networks in India: Facebook and Orkut.
Experian Hitwise's latest report on the internet data and trends in India states that "Google, Google India and Facebook are the three most visited websites in India, accounting for 25% of Internet visits." Orkut has lost its top position and currently stands at No. 10.
The following chart is my comparison on the two social networks that have ruled the social networking space at some point of time in India.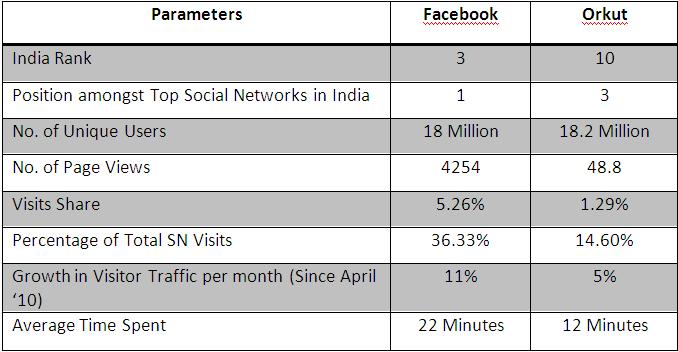 Orkut had been the leading social network in India since 2005. Despite its early movers' advantage, Facebook ousted Orkut as the number one platform in July 2010. The above chart gives a clear picture of how Facebook is winning Orkut in every aspect. Understanding the reasons behind India's shift from Orkut to Facebook could be cumbersome but I have created a list for your pleasure reading. Here it is:
1. Let's Play: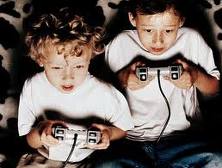 The birth of social games and applications has attracted a large  number of users getting onto Facebook. According to a recent report by Vizisense, 52% of the time on Facebook is spent on applications and games. Facebook social game, Farmville is the top application in the list and is one of the driving forces behind Facebook's success in Asia. On the other hand, Orkut never had the infrastructure to provide a "Farmville type" application which explains why users spend significantly lesser time on the site.
2. Like Us:


Indian brands have got themselves well acquainted with the marketing muscle on Facebook where a lot of money is invested. Users are also actively interacting and participating in the share of voice. This was never the case with Orkut due to its non-marketing friendly structure of the network.
3. Tag Me: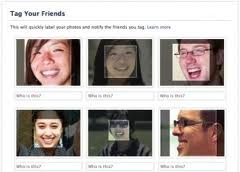 Photo tagging, sharing and viewing made photos popular among users . Orkut on the other hand had photos and albums but they were not as big a hit compared to Facebook's features. Although tagging is a simple introduction, it greatly helps to connect users-to-users through photos. The result is a stronger community of friends within Facebook.
4. Glamour Quotient: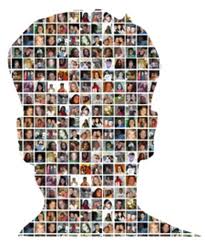 This is one of the major drivers resulting into the shift. The migration is a result of a shift of perception on the social status of a person with regards to the network he or she is on. I also call it the 'Glamour Quotient Shift'.
Being on Facebook is way cooler than being on Orkut. There is nothing Orkut could really do about this. Do they?
5. Integration at its Best: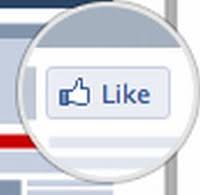 Facebook with its attempt to capture the web, went ahead to make the "Like" button universal. A list of plugins for easy embedding on other websites were also introduced to quickly spread the service across the Internet. Orkut always lacked this universal mechanism as it was only reigning in India and Brazil.
Although Orkut has tried to regain market share by introducing more features, I believe that Facebook's growth in India is only unstoppable for now. The question remains as to whether Facebook can maintain its growth in a long run. After all the strength of a social network depends on how well it can integrate with the local community and create a network effect within the population. So far so good, Facebook.
[Data via sorguromain, experianplc, vizisense]