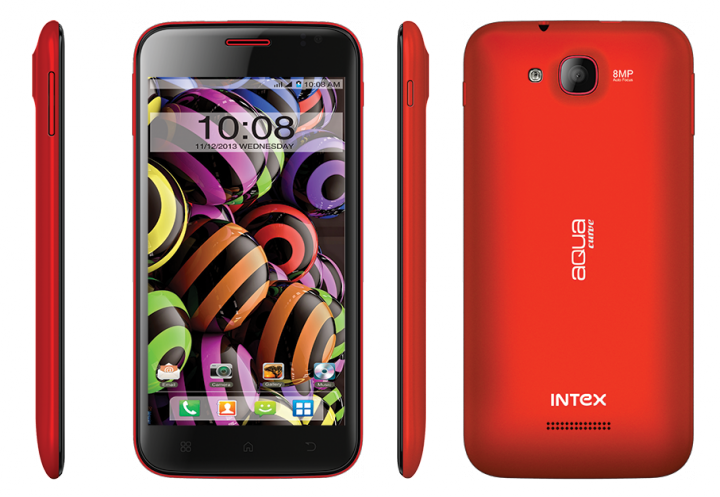 Following in the footsteps of Samsung and LG, Indian IT brand Intex today launched an Android-powered smartphone called the Aqua Curve.
Part of the company's Aqua smartphone range, Intex claims to be the first homegrown phone-maker in India to sell a phone with a curved screen. Actually it's just curved glass atop a normal, flat screen, a bit like the old Nexus S phone. It has a five-inch screen, but it only has a resolution of 960×540 pixels, so it's far from pixel-perfect. It's a dual SIM smartphone designed for younger buyers. Because it's not really curved, the Aqua Curve's rear is flat (Updated: Corrected the fact that it's merely curved glass, not a curved display).
It has pretty much standard features available in most cheap smartphones today, including a 2-megapixel front and 8-megapixel rear camera, voice-commands, and 3G support. This model is priced at INR 12,490 ($197.92).
Intex has fitted the Aqua Curve with a 'Shake Screenshot' feature, which, as the name infers, allows user to take screenshots easily by shaking the phone and sharing the image over social media.
Next stop: 8-core
Given the look and features, the Delhi-based company is banking on the country's young population. Apart from being the first to launch a – very gimmicky – curved display phone, Intex also plans to come out with an octa-core processor model under the same Aqua range later this month.
This 17-year-old Indian IT company has come a long way in spreading its wings from IT peripherals to smartphones. Today, the Intex brand spans over seven business segments including mobile phones and accessories, IT accessories, consumer durables, security and surveillance kit, retail, enterprise solutions, and power electronics.
Unlike other homegrown brands – such as the more popular Micromax – that import electronic components or assembled products from China, Intex has its own manufacturing set-up with three factories in India.
(Editing by Paul Bischoff)