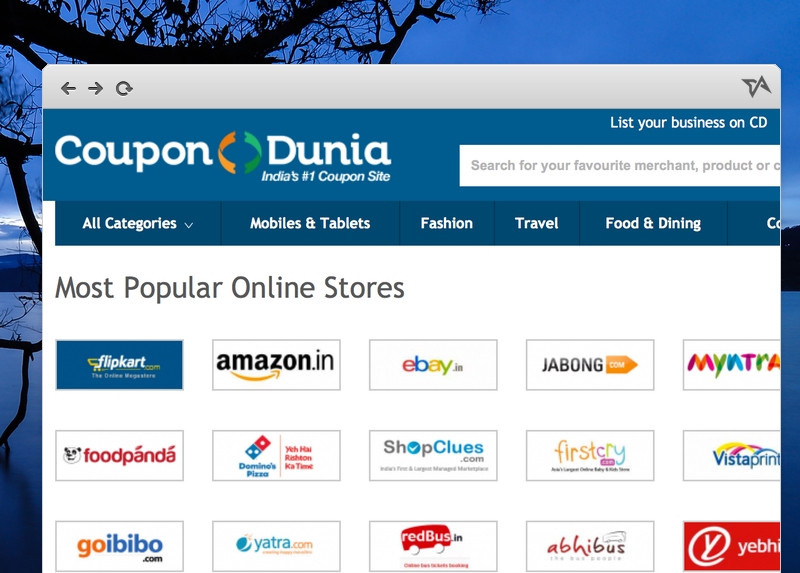 Times Internet, the online subsidiary of The Times of India Group, is expanding its web empire with yet another Indian startup acquisition. This time it has acquired a majority stake in CouponDunia, a site that specializes in online discount vouchers that can be used on local ecommerce sites such as Flipkart, Amazon India, and Foodpanda.
Earlier in April, Times Internet acquired the restaurant reservations startup Dineout, following up on a string of buy-outs last year.
CouponDunia founder Sameer Parwani tells Tech in Asia that the financial terms of the deal can't be revealed, but it contains a provision for Times Internet to buy up 100 percent of the startup. Parwani explains that Times Internet's existing deals site, TimesDeal, will continue alongside CouponDunia. He adds:
Our businesses are quite complimentary. CouponDunia has been the far away leader in the online couponing space while TimesDeal has built out an excellent basket of local offers. Right now there isn't an overlap so the businesses can continue to operate separately without competing against each other. In the next few months we will be able to determine the exact path for how we make the two entities co-exist or combine.
Parwani says that he's not exiting the startup and will "be running CouponDunia for at least the next several years." He adds that he's excited about the new possibilities for the distribution of these discount vouchers – which are a huge business in India – now that the team is under the wings of Times Group and its broad media business.
See: Indian startup wants to complement family-run grocery stores, not replace them
Aside from greater exposure via the parent company's papers and TV channels, CouponDunia is looking towards mobile to grow its user-base. Parwani explains:
In the next year we are focusing on our mobile efforts. The distribution of offline coupons is best done via the mobile. If you are out and about, just pull out our app and see where you can save near you. We'll be launching both Android and iOS apps in the very near future. We just went live with our mobile web site last week and immediately saw 30% reductions in bounce rate and a 50 percent increase in pages/visit. Even for online shopping coupons, the mobile is where the future is. Already 20 percent of our users visit from mobile.
CouponDunia expanded to Indonesia, Brazil, Turkey, and Poland in September of last year. Parwani says that the buy-up allows the startup to invest more into the overseas sites, though he concedes that the acquisition was centered around the site's impact on the Indian market.
CouponDunia is up against a huge number of other sites in this niche in India such as Rocket Internet's CupoNation and Anglo-Indian venture Cashkaro.