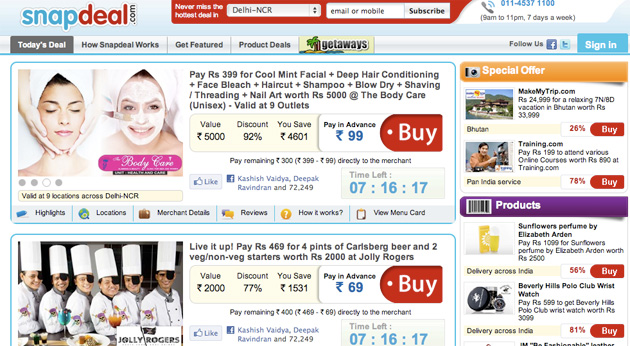 Groupon enjoyed a good two year head start in the group buying industry, but is now facing stiff competition not only from Amazon-invested LivingSocial but also India's group buying site SnapDeal.com.
SnapDeal has surpassed LivingSocial in terms of traffic and is steadily catching up with Groupon, according to Amazon's Internet traffic monitoring site Alexa.com.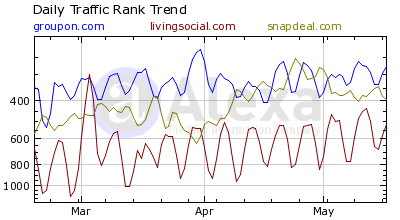 As Groupon expands globally, it needs to keep an eye on SnapDeal. It has already started operations in India with the acquisition of SoSasta, but SnapDeal continues to lead in the country.  SnapDeal is a huge competitor for Groupon and if it wants to remain global leadership, it has to withstand this challenge
This is reminiscence to the battle between Facebook and Orkut in India, which the world's largest social network took nearly four years to claim leadership in the Indian market. Groupon is now facing a similar test.
The competition is only going to get more intense as more players are jumping into this lucrative market. We previously wrote about Times Group's entry into the group buying market with the launch of Timesdeal.com. That company's media prowess shouldn't be underestimated as it has the greatest reach in India, with print/TV/online media triple threat.
Times Group owns IndiaTimes.com, the biggest Internet Portal in the country along with top print newspapers, Times of India and Economic Times. The group also owns top news channels – ET Now and Times Now.