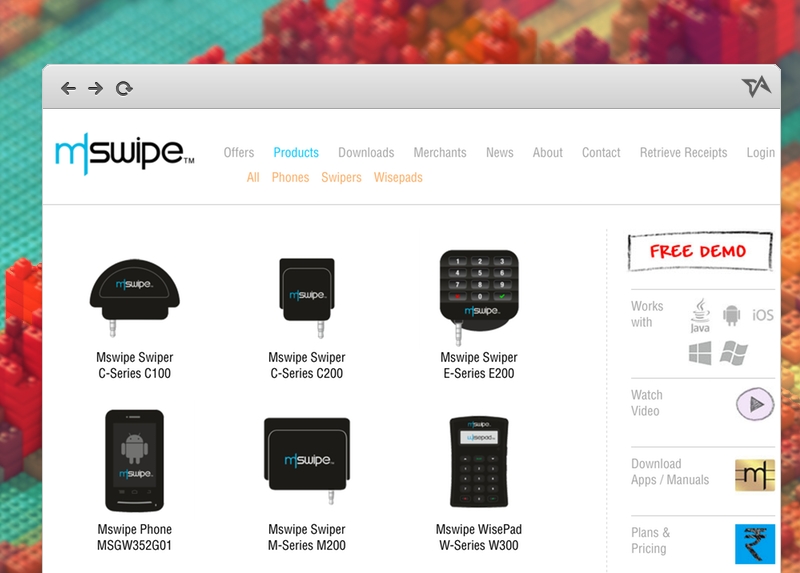 A lot of startups are battling to get small retailers and major chains in India to use their point of sale gadgets. One of these is MSwipe, which makes a mobile add-on – a bit like that made by Square – that allows smartphones, feature phones, and tablets to accept credit card and bank card transactions.
Indian blog TechCircle reports that the Swipe team has secured series B funding from existing investors Matrix Partners and Axis Bank. The funding amount has not been disclosed, and MSwipe hasn't yet confirmed the report.
Though MSwipe targets small and medium-sized businesses, it also boasts McDonald's and major local companies such as MakeMyTrip and CarzOnRent among is clients. The startup, first founded in 2011, now sells five kinds of MSwipe Swiper gizmos, all of which attach to a phone or tablet via the headphone jack. It works in tandem with apps for iOS, Android, Windows Phone, Windows 8, and Java-based feature phones. Plus, the startup sells a MSwipe-branded Android smartphone in the form of the catchily-named MSGW352G01.
MSwipe's series A round exactly a year ago is believed to be worth about $5 million. Last year it had around 4,000 merchants on board and was adding 1,500 merchants a month.
As with other such point-of-sale gadgets, the company makes money by taking a small cut from each transaction it processes. Rivals in this space in India include Ezetap, PayMate, and MobiSwipe. US-made gadgets like Square or PayPal Here don't work in India.
(Source: TechCircle)
(Editing by Paul Bischoff)