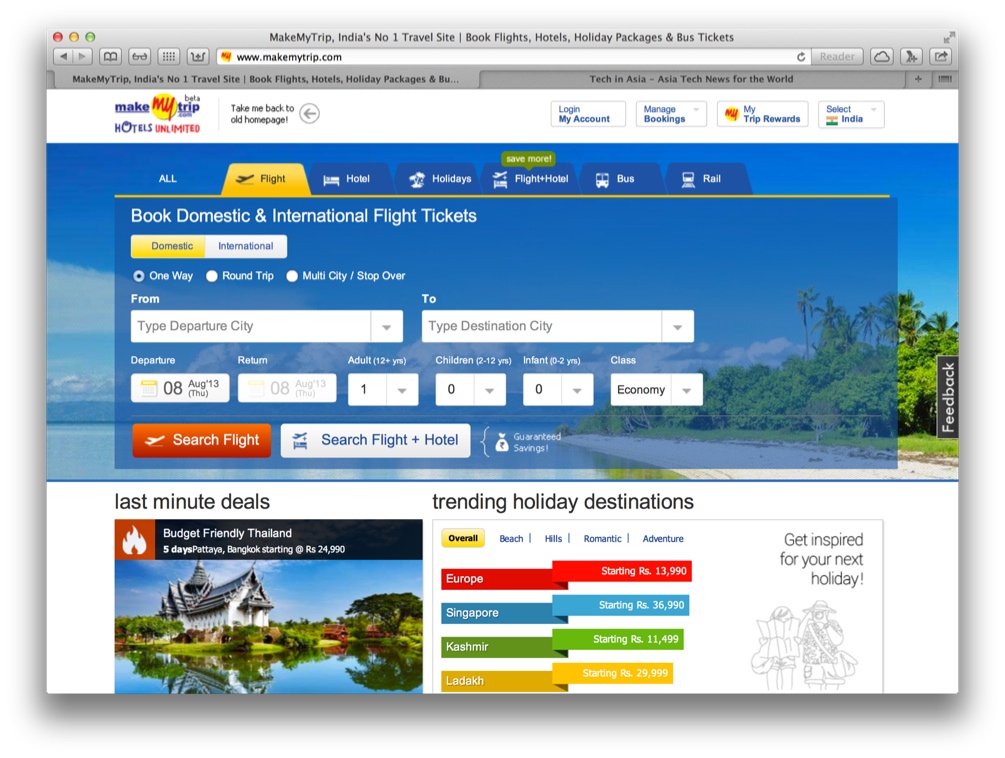 Indian online travel booking site MakeMyTrip (NASDAQ:MMYT) has wheeled out its latest quarterly financials. The data (called Q1 2014 in the financials, but it's Q2 2013 for normal people) shows that mounting costs caused the company, India's leading travel e-tailer, to book $9 million in losses on the back of $77.2 million in revenues. That's grown from a net loss of $0.8 million a year ago.
While revenues were up 22.9 percent year-on-year, the more important figure of 'revenue less service costs' was a mere $26 million in that quarter. At least that was up 11.2 percent from the previous year.
MakeMyTrip – which has booking for flights, hotels, package holidays, trains, and buses – saw gross bookings hit $335.5 million in the previous quarter. Hotels and packages increased by the greatest amount, up 51.5 percent in terms of sales revenues.
New India CEO
In a separate announcement, MakeMyTrip announced today the promotion of Rajesh Magow to the role of CEO for India operations. Founder Deep Kalra will remain as chairman and group CEO.
MakeMyTrip's stock closed at $13.80 per share at the end of Wednesday's trading, before the latest quarterly report came out. It's been hovering at a low price since May 2012, way down from a peak of $39 per share in September 2010, shortly after the company's NASDAQ debut.
Travel e-commerce sales in India will reach an estimated $30.61 billion in 2016.
The full earnings report is here (PDF).