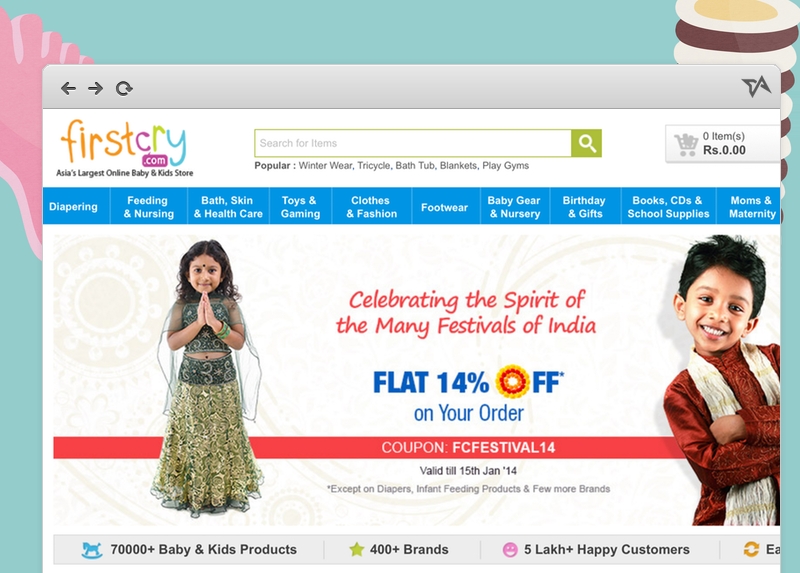 Indian e-shoppers spent $16 billion in 2013, and that number's set to rise in 2014. There are certainly plenty of e-commerce options out there. For baby and child-related products, there's FirstCry, which was founded in 2010.
According to the TechCircle blog, FirstCry has just secured $15 million (Rs 93 crore) in series C funding. The investment is led by Vertex Venture Holdings, which is a subsidiary of Temasek, Singapore's sovereign wealth fund. Previous investors SAIF Partners and IDG Ventures also put some money into the newest round.
Stores across 21 cities as well
FirstCry has all kinds of babycare items and childrenswear, plus supplemental stuff like school supplies, books, and educational CDs. It now stocks over 70,000 products from more than 400 local and global brands, including big names like Mattel, Disney, and Fisher Price.
Because e-commerce is taking off quite slowly across India, FirstCry also has 25 brick-and-mortar stores in 21 Indian cities across 11 states. The company is targeting $250 million in sales transactions by 2015, combined across its shops and e-store.
FirstCry's sister site, Goodlife, hasn't fared so well, and was shut down a few months ago. It specialized in selling make-up and skincare items. The parent company of both is Pune-based BrainBees.
FirstCry's main rival in this niche e-commerce area is Babyoye. They are the top two specialist e-stores for Indian parents.
(Source: TechCircle)
(Editing by Paul Bischoff)