Nielsen's recent Global Online Consumer Confidence Survey examined the spending concerns of over 28,000 internet consumers from all over the world, and the results show things are looking up in Asia. Or at least, consumers think so. Neilson's list of the most optimistic counties is dominated by Asian ones, accounting for seven of the top ten nations:
India Most Confident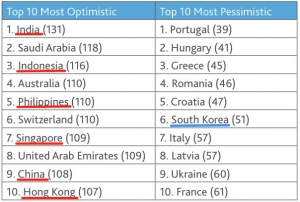 India scored higher than any other nation posting an index of 131, in contrast with the global average of 92 (Note that scores under 100 are indicative of pessimism). According to Justin Sargent of Nielsen India, India's confidence comes as a result of economic growth and an improving job market.
While India's score is indeed high, it is in fact down from the country's record high of 137 from 2006. That was an all-time high for any nation in Neilsen's survey.
Indonesians are optimistic too, ranking close behind
Indonesia's economy started to climb since the beginning of this year and, as with many Asian countries, consumers were reassured by that period of growth. Nielsen survey ranked Indonesia as third among the most optimistic countries with an index of 116.
Indonesian online consumers can look forward further growth periods in 2011, if the promising developments in the nation's online social commerce are any indication.
The Philippines, Singapore, China, and Hong Kong also made it onto the ten most optimistic list. South Korea stands out as the sole Asian nation on the Neilsen's pessimistic list, with an index of 51.
The take-away for Asia overall is a good one, pointing to online consumers feeling more comfortable spending, and hopefully fueling a recovery after the recent recession.