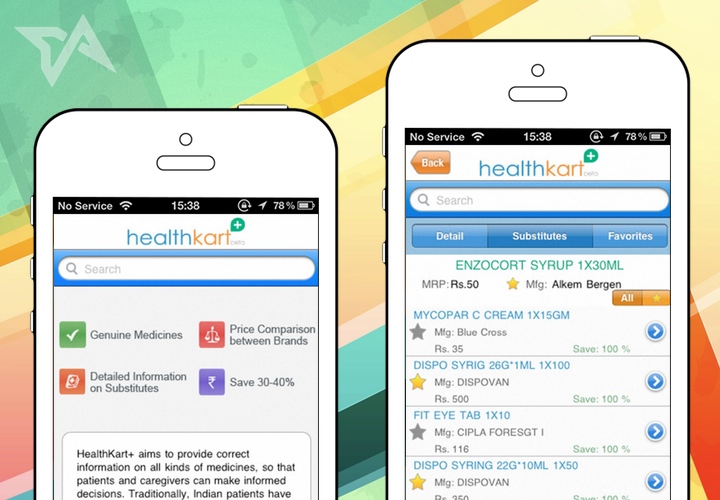 India's HealthKart sells everything from vitamins to vital medicines via its online portal, but it's such a heavily regulated and controversial industry that e-payment platforms don't support online purchasing of drugs, leaving HealthKart to have to collect cash from customers on the doorstep. Despite all this, HealthKart has confirmed series B funding this week from Intel Capital, Sequoia Capital and Omidyar Network.
The funding amount hasn't been revealed, but the NextBigWhat blog believes it to be a hefty $14 million. Along with HealthKart's series A round, this specialist e-commerce site has raised a total of $22.5 million from venture capital firms.
HealthKart's newest portal is centered around cheap 'generic' medicines, which are drug products usually made once the original patent has expired, allowing any company to produce the drugs at a much lower cost. Called Healthkart Plus, it's both a database of medical information and an iPhone and Android app for ordering generic drugs via your phone. Part of the funding will go to expanding this new service to more cities in the next month or so, such as to Bangalore and Chennai.
Generic drugs represent a huge battle against 'Big Pharma'
Generic medicines are a major new battleground between developing nations and so-called Big Pharma in the west – the major drugs companies that are seeking patent extensions so as to block cheaper medicines from proliferating. For example, before Indian companies rolled out generic versions priced at $1 a day, AIDS medication cost about $10,000 per person per year. It has become a war between life-saving medicines and copyright controls, with US and European pharmaceutical firms not keen to see the world's poorest getting cheap meds, and are aggressively lobbying governments to extend their controls over drug patents so as to maintain their monopolies. The major drug firms insist that patents protect their significant investments in creating new drugs.
Of course, there are genuine risks in this sector – and for Healthkart as a seller – in fake medicines, whether they be counterfeit vitamins or fake generic medicines. That's the main reason behind the reluctance of payment companies to play along. But co-founder and managing director Prashant Tandon is playing the long game:
We are providing a technology solution. The merchants need to have a drug license and [be] compliant with the laws […] We are working with banks to accept online payments on medical purchases.
The startup now sees five percent of its transactions happening in the mobile apps, which only launched last September.
If you're in India, check out the Healthkart Plus apps for Android and iOS.
(Source: NextBigWhat)
(Editing by Anh-Minh Do and Enricko Lukman)