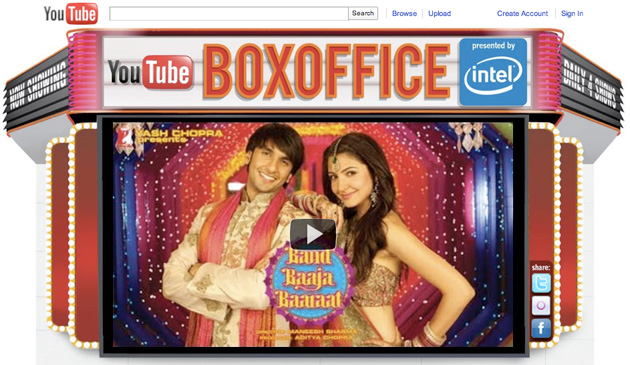 India Bollywood lovers listen up! You can now watch Bollywood movies on YouTube for free. Under the YouTube Box Office channel, fans in India can watch both popular and new Bollywood movies every month. Unfortunately, IP address outside of India will not be able to access these Bollywood videos.
More than 1,500 titles of Bollywood blockbuster movies are available in this channel. These films can be watched in full HD (1080p) and are made free because each film is inserted with a 15-second ads at every 10 minutes interval. The ads cannot be skipped.
Intel is the main sponsor for this new initiative, which allows consumers to enjoy these Bollywood movies on their big-screen HDTV with Intel Wireless Display (WiDi).
As an effort to reduce the level of film piracy in India, YouTube's initiative was well received by Indian film producers. Yash Raj Films' General Manager, Anand Gurnani said that YouTube not only offers the ability to reach more people, but it also monetizes films through online ads.
This isn't the first time that YouTube has implemented such an initiative in India. Previously, it has also partnered with Indiatimes to bring live-stream Indian Premier League Cricket games on YouTube, monetizing the content through advertisements.
Source: Economic Times