Unlike most investors or venture funds that park money based on the bottom line, Bitchemy Ventures, an Indian technology incubator cum seed fund, invests in disruptive ideas and unique business startups with long-term sustainable growth besides high earnings.
Started in 2012, the Hyderabad-based group has so far invested $6 million incubating three tech companies. "At BitChemy, we combine entrepreneurship, incubation, and seed capital with operational management and strategic oversight," explains Sunil Motaparti, the founder of Bitchemy Ventures.
Motaparti, an entrepreneur himself, says his firm invests up to $2 million in each incubated company and joins the startup as a co-founder. Here are its three investments so far:
Cafyne is a US-based startup that guides enterprises through the maze of regulations in their sector, and this helps protect their brands.

3LOQ Labs is a Hyderabad-based firm that operates in the retail industry and provides customer behaviour understanding and analytics using machine learning algorithms.

Altiux, from Bangalore, works in the areas of IP development, prototyping, new product development, re-engineering, and emerging market-focused solutions.
Open to early-stage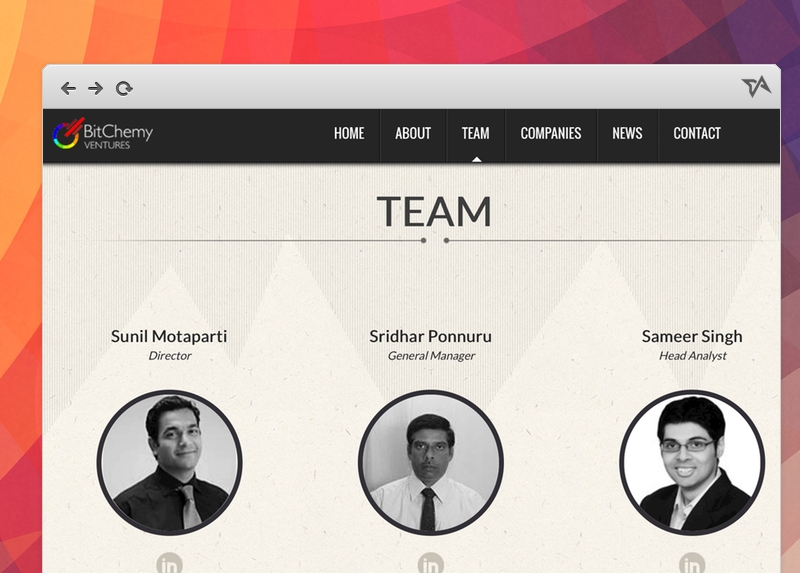 Bitchemy Ventures is also open to investing in early-stage companies – so long as they have some validation – with funding up to $100,000 each as a minority stake holder.
Though the fund is like Germany's Rocket Internet in some ways, Bitchemy's market focus is broader. "We are similar to Rocket Internet in the way that we take innovative ideas in technology and combine them with disruptive business models to build unique companies," says Motaparti. He adds:
However, our market is wide as we focus both on B2B and B2C sectors. Also, we believe in investing in a unique business model rather than just creating a replica of a successful business model, like Rocket Internet [does].
While most funds invest with a buy-up pay-out in mind, Bitchemy Ventures doesn't follow that approach. "We don't have exit plans in our incubated companies. Our goal is to invest in incubation and seed funding, provide strategic support for growth of companies," explains Sameer Singh, head analyst at Bitchemy Ventures.
With the aim to invest in three to four companies a year, Singh says that the team has "a database of 40 external startups and we're evaluating some 10 brightest ideas." And then the group will select two or three for funding.
In India, many successful startups like Flipkart, RedBus, and Zovi are very conventional, direct services. Singh points there's a lack of companies in India that have indirect business models, whether it is in the service or product development space.
"The biggest challenge for investment is finding a potential company having a long-term sustainable growth, having a different business model with disruptive ideas," concludes Singh.
(Editing by Steven Millward)