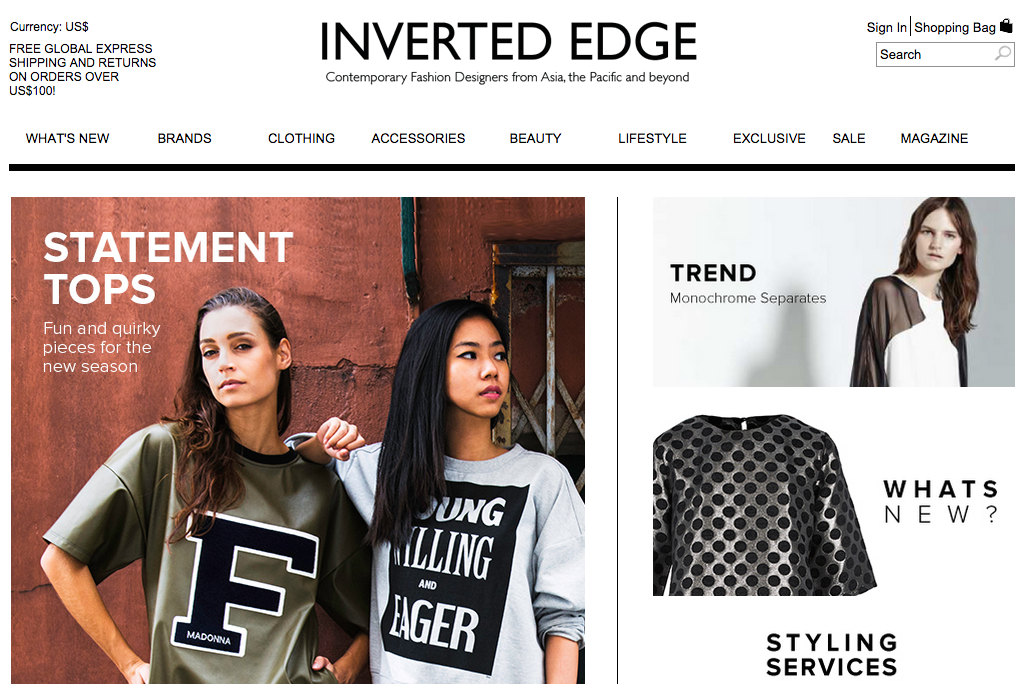 Singapore-based Inverted Edge, an upcoming online fashion store, has announced today that it has raised SGD 2M (USD 1.6M) from IncuVest, Accel-X, and four other undisclosed private investors.
The Singapore government's National Research Foundation also participated in this round through Incuvest via the Technology Incubation Scheme.
Soon to be launched, Inverted Edge finds itself in an increasingly crowded space dominated by blogshops and multi-label retailers like ASOS and Zalora.
While it doesn't come across as being innovative from a business model or technological perspective, it strives to distinguish itself from the rest by offering women a unique sense of style, making it a niche but higher margin offering.
It plans to feature clothes from Asia-Pacific's new and independent fashion designers, acting as their advocate by handling logistics, marketing, inventory management, and customer enquiries. Inverted Edge will announce its lineup of designers in March this year.
Citing stores like Intermix, Aha Life, Boticca, and Muuse, Inverted Edge's founder Debra Langley says that "retailers are quite aware that increasingly, sites and stores that curate around a point-of-view are gaining traction."
She also believes that while luxe buyers will always be there, more women are getting more independent and informed about getting unique items that make them feel good. The brand matters much less.
Debra was the Asia Pacific President for Borderlinx, an e-commerce venture headquartered in Brussels. At Borderlinx, she was involved in the launch of One World Avenue, a global marketplace for luxury brands. She was also the president of DKNY Jeans International.
Even in developed markets, analysts are predicting that fashion e-commerce will continue to grow.
eMarketer predicts that online fashion and accessories sales will hit USD 73B in the United States, or over 20 percent of online retail sales. Meanwhile, the Economist Intelligence Unit and Boston Consulting Group believes that by 2016, online retail will reach 23 percent of the United Kingdom's retail spend, 11.7 percent in Australia and 8.9 percent in Germany.
At launch, Inverted Edge will be looking at the US, UK, Australia, Singapore, and Hong Kong markets. It will tackle non-English speaking markets eventually with a different strategy.
Prior to this investment, IncuVest had funded Sogamo, a Singapore-based real-time analytics and personalization engine for social games, for USD 500K. Accel-X, meanwhile, has invested in Koobits, an e-book creation platform, PatSnap, a patent search company, and more.