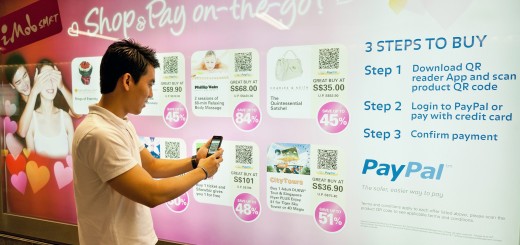 QR codes have taken off in a big way in the marketing world lately, and PayPal is the latest to get in on this craze.
Just recently, they launched a pilot program in Singapore's train stations to allow locals to purchase Valentine's Day gifts at discount using QR codes, reported AllThingsD.
To purchase a gift, commuters would need to download a QR code reader on their mobile phones to scan the right spot on the poster. They will be brought to a webpage where they can purchase the product using PayPal. The experiment is being run on 15 subway stations in Singapore.
PayPal's initiative follows a similar move by Cold Storage supermarket during the Christmas season last year, in which they offered groceries like Christmas ham to commuters at a couple of train stations.
Both programs are likely inspired by supermarket chain Tesco in South Korea, which is apparently the one that started the whole trend.
While Tesco reportedly received positive results and increased sales because of their virtual stores, it's unclear if Cold Storage experienced a significant boost as a result of their experiment.
Although QR codes have frequently been dismissed as a gimmick and a passing fad, it's more likely that the technology will see niche usage among marketers, who are still figuring out how to use it effectively.
It is also competing with even more advanced technology like NFC, which many believe will herald the new age of mobile payments. But NFC is unlikely to supplant QR codes completely, since both have different use cases.
PayPal appears to understand this well. It is putting its eggs in many baskets, investing in NFC for its Android app, and also working with Home Depot in the United States on a small point-of-sales trial.
Check out the video about PayPal's Valentine's Day special in Singapore:
More epic stuff about QR codes:
Ten QR code sins to avoid
QropIt hopes to take QR code implementation to the next level
Good and bad examples of QR code implementation (from Facebook)