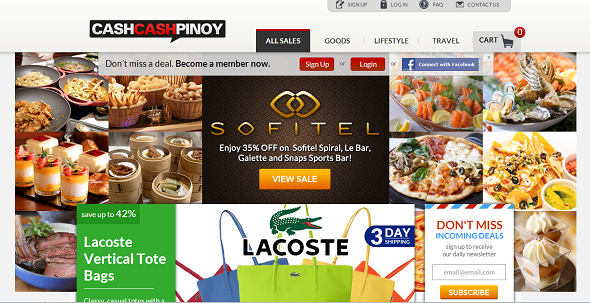 Much has been said about the futility of adopting a unified "Southeast Asia Strategy" to tackle a region with diverse languages, cultures, and markets. While the author is spot on, he's only scratching the surface of what makes the region such a tough nut to crack that even the obscenely well-funded Rocket Internet is no sure bet for success.
Frédéric Levy (LinkedIn), CEO and founder of CashCashPinoy, a company which says it's the number one product flash sales site in the Philippines, certainly knows a thing or two about Southeast Asia.
The entrepreneur, who's also the VP of the Digital Commerce Association of the Philippines, experienced first-hand the challenges of building a sustainable e-commerce business in a large but daunting emerging market. The most immediate problem is the lack of a support services for online retail ventures.
"E-commerce is still a pioneer industry. There are still a lack of partners adapted to e-commerce's flow. My company could probably be run with only 20 people in Europe, which is a mature market." he says.
To counter that, CashCashPinoy has resolved to outsource nothing, to control the full quality of the organisation. That includes sourcing, shipping, and logistics. The only thing it doesn't do is delivery.
Operational support is not the only area that's lacking. Digital marketing in the Philippines too leaves much to be desired.
"A lot of marketing tools which are classic in e-commerce are not yet fully developed in the Philippines. One of the key for e-commerce is affiliation. As of today, there's no established affiliation platform. Qualified databases are not really developed. And it's also complicated to discuss with publishers about CPA or revenue sharing." he says.
Despite these hindrances, the group buying site has grown into a credible business. Since launching at the end of 2010, it has raised USD 1.8M in Series A funding and made USD 7M in revenue last year. It's on track to hit USD 11-12M in 2013.
Cities and provinces
To call Philippines a singular 'market' would be a misnomer. For practical purposes, the country can be divided into two: cities like Metro Manila, and provinces. While this distinction is important from a demographics point of view, Frederic explains that the logistical infrastructure in these two markets are drastically different.
As expected, logistics in the city is fairly painless, with dozens of players offering smooth and cheap services. The story is different in the provinces, which are dominated by three major players who are leading the market and charging rates that cannot really support the development of a nationwide e-commerce industry in the country.
"Until recently, the most important logistic players didn't see the need to match e-commerce needs. Things are starting to change though. In the mean time, several smaller players claim to be digitally compatible and e-commerce friendly. But not all of them are really able to support the flow and volume," says Frédéric.
Given the state of logistics in the rest of the country, e-commerce startups may have no choice but to focus on selling services like restaurants and spas.
But that presents a problem:  There simply aren't enough services in the provinces to go around. Which is why in a large country with 94M people, there are only three major players in the daily deals space with enough volume and cashflow to make the business work.
So for e-commerce in the Philippines to be sustainable, it is essential to focus on products and leverage on the global supply chain to bring goods to Filipino consumers cheaply. CashCashPinoy is doing that: 85 percent of its sales this year are derived from products.
A classic chicken-and-egg situation develops however: Bringing the cost of goods down requires sound logistics, but good logistics requires sufficient demand for goods.
Provinces are where the money lie
Frédéric has been refining his plan to crack this conundrum: Build his own logistical network and raise the money for it. One option is to create a Pick Up Kiosk System in the provinces, starting with Mindanao, Visayas, and Bicol. He's aiming to launch test kiosks by the end of the year.
It's a method that is being replicated across Asia, each with their own nuances: Instead of delivering 50 items to 50 different addresses, companies can lower shipping cost and labor effort by delivering all these items to one pick-up location.
On the website, consumers can elect whether to pick up their item, in which case they may not even have to pay a delivery fee, or they could opt for doorstep delivery, where they'll have to bear the logistical costs. In price-sensitive economies, it's easy to guess which option shoppers will prefer.
While the company is still sorting out the details and talking to potential partners, Frédéric is targeting a launch this year. Several indicators have given him reasons for optimism.
First, the low cost of doing business in the provinces. While utilizing an existing network for his delivery kiosks could be beneficial,  low rentals are making the option of developing everything in-house attractive. Besides, operating their own dedicated team would mean the company would be able to maintain the quality of customer service.
Second, Philippines' payment infrastructure is fairly mature compared to Indonesia and other developing markets.
Frédéric says that CashCashPinoy already offer over 20 payment options, with credit card and over-the-counter payments being the most popular. The latter is fairly developed in the country, with services like Dragonpay aggregating several over-the-counter payment providers into one interface.
And third, the provinces hold the key to the future not just for the company, but anyone who wants to make serious money selling stuff on the internet.
"In the United States or Europe, it's not the folks in New York City but those in the suburbs like Iowa that made e-commerce succeed. They're the ones who were looking for more options and choice due to the lack of offers near them. You can be sure history will repeat itself in the Philippines," he says.