Recently, during the Mobile Monday Singapore Peer Awards 2009, OrSiSo – Aureliant Pte Ltd won the award for the Early Stage Category. Orsiso is a next-generation social networking tool that brings a rich browsing experience direct to your desktop and mobile. Orsiso stands for Organize, Simplify and Socialize, which is exactly what we intend to help you achieve with your social life on the net. So we manage to catch up with Thorben Linneberg, co-founder of Aureliant Pte ltd and chat with him about the product OrSiSo which is recently launched online.
BL: Hi Thorben, tell us the story behind Orsiso and how your CTO Jerome and you got involved.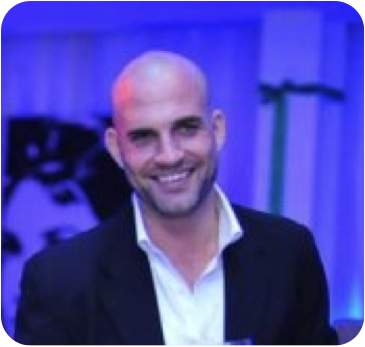 Thorben: I originally came from Denmark. Throughout the past 14 years, I have worked as "Country Manager" for different MNC in Europe, US and Asia. Worked in Mobile internet, and Wireless technologies for a number of years.
Our CTO – Jerome Poudevigne, is a French national and serial entrepreneur with vast experience in building scalable systems with high availability and high utilization.
Our COO – Alastair McAlpine has more than 14 years managing technology projects across the globe. Has a proven track record and significant expertise in software development and delivery of complex technology.
Around this core executive team we have a development team composed of 2 full time developers, a UI designer, and a mobile platform specialist.
The inspiration behind OrSiSo came from growing frustration in trying to keep up with all the Social networks managing memberships interacting with the same friends on different networks. Many times, he missed events that he was invited to… simply because he forgot to log in to that particular network.
At the same time, the amount of mails, pokes, zombie wars and other notifications and requests in his inbox became overwhelming.
The idea of a tool where all this information would be centralized and prioritized grew in his head… and in October 2007 he decided to put his ideas into a business plan.
At the time… Open Social API's didn't exist, and almost all networks were stuck in the "walled garden" approach to growth.
Today the industry has moved towards openness and this has helped our progress greatly.
BL: What is OrSiSo and what does the application do?
Thorben: OrSiSo takes the pain out of managing several networks and let the user have fun again. Friendsters stop to be spammers and "Facebook fatigue" is gone. With its intelligent SocialCraft filters, OrSiSo acts a lot like the junk mail filter of your email software. And with its one-click search function, it's a lot like a Google for your social life. Powerful functions like FriendMerge allow to reduce the clutter, while notifications, animated avatars, photo slide shows add to the entertainment factor. Status updates and tweets are only a couple of clicks away.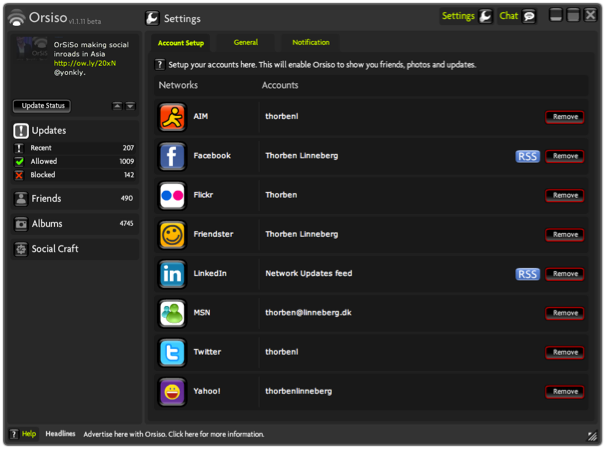 Picture 1: Accounts Setup.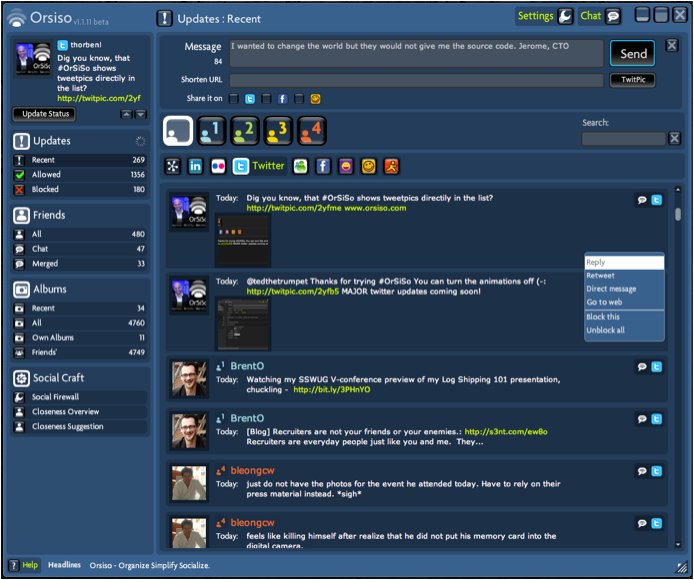 Picture 2: Notifications Screen.
We are targeting typical users of social networks. Such a user is usually a member of at least 3 of them (we currently support 8 and are adding more every 2 weeks). In addition to that, he/she will have several email accounts and several chat accounts, as well as multiple user accounts on online shopping Web sites such as Amazon or eBay.
OrSiSo is currently a desktop application, but we are building a mobile version to bring the same convenience to the mobile phone.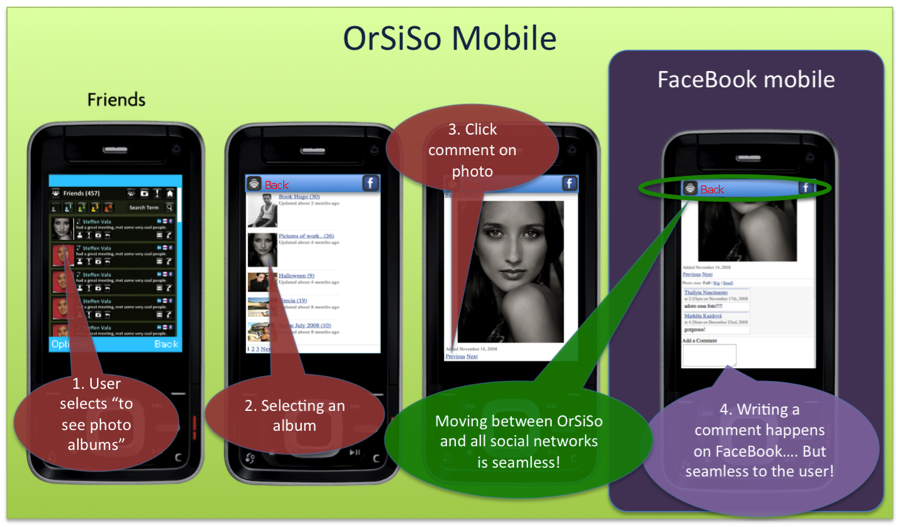 Picture 3: OrSiSo Mobile
We have over 600 users as of today (1 week after launch). We are doubling our user base each week at the moment, and its accelerating!
BL: What are three main key features in OrSiSo that you like your user to know about? (Attached Screenshot)
Thorben: Here are the three main features –
1. Organize: OrSiSo will organize all your contacts, updates and pictures according to relevance "Inner circle – Outer circle"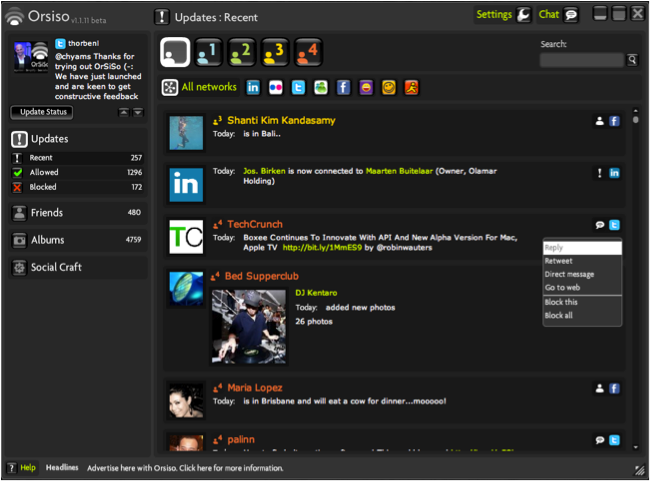 Picture 4: OrSiSo – Organizing Contacts, Updates and Pictures according to relevance.
2. Simplify: SocialCraftTM let's you filter updates, Friends and albums by "closeness" Closeness scores hare auto calculated by in-built intelligence engine. We have developed an intuitive way of blocking updates if they aren't relevant… In turn OrSiSo learns your behavior and adapts the flow of information accordingly.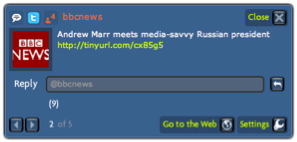 Picture 5: Reply to Tweets directly from the pop up!
3. Socialize: OrSiSo handles the discovery, and let's you get back to the fun! It sets you free to join new social networks, without having to spend more time and provides intelligent triggers adapted to each users Social DNA.
BL:
Since a lot of services for example, like Twitter are web-based services and given that OrSiSo is a application based service to analyze and aggregate social networks, do you think that there might be less people using your services?
Thorben:
Twitter, FaceBook, Friendster are all web based services. Being on the Web has certain advantages and disadvantages.
In the past few months more and more applications have been launched that are in the same industry as OrSiSo.
• Tweet Deck
• Twhirl
• Skimmer
• Nomee
• Disgsby
Just to mention a few.
Interestingly, they are almost all using the same technology as we are… Adobe Air.
Adobe Air is still a relatively new technology that's growing rapidly at the moment.
Social networks belong on the web, but how and when a user gets to the decision of logging in… happens before. OrSiSo's aim is to vastly improve the intelligence that leads to socializing!
OrSiSo is your guide to your online Social life. The whole point of being a desktop application is that we don't want the user to bother with logging in to so many sites, just to stay on top of things. OrSiSo's will handle that. Just like Google sends me off to a service I have searched for… we send the user off to specific pages on specific SNS sites they have interest in.
BL: How does Orsiso help people to organize their social networks and web based services (Twitter, Flickr) better?
Thorben: OrSiSo lets you filter by Network and closeness at the same time. This goes across all functions.
• Pictures sorted by closeness across all networks: For example, you went to a wedding, 10 people took pictures. 5 albums were uploaded on 3 different networks (FaceBook, Flickr, Friendster) OrSiSo lets you see all these albums in one place.
• Twitter: Sort all you twitter updates by closeness, retweet, tweetpic, shorten URl and much more
Loads twitpic's in the list itself:
BL: Since Orsiso also aggregates social network and web based services, how different is it from Power.com, a web-based social network aggregator?
Thorben: Power.com is only an aggregator, it does not come with organizational features.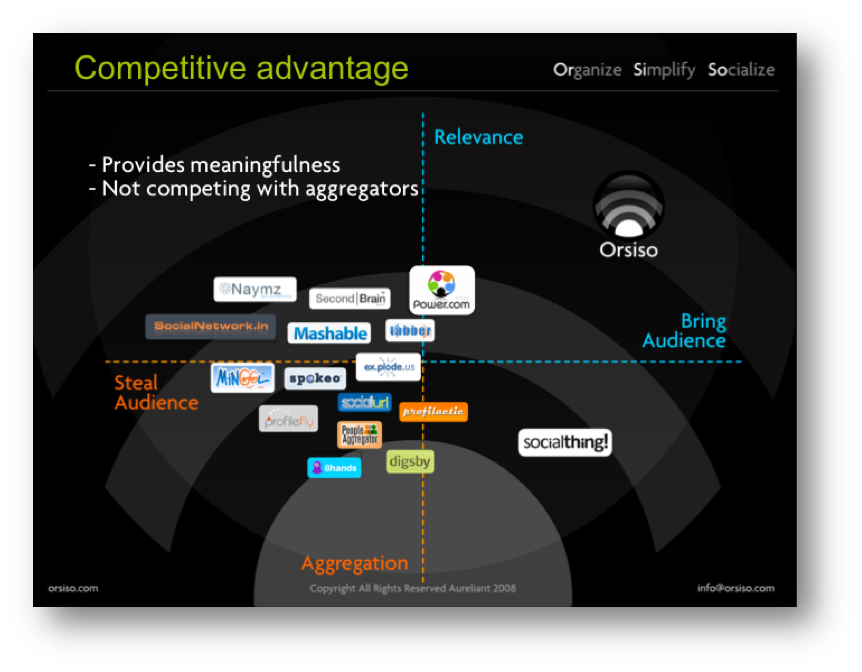 Picture 6: OrSiSo – Competitive Advantage against other competitors.
BL: What are the main challenges for Orsiso?
Thorben: To spend our energy, time and money RIGHT.. the first time!
BL: Our favourite question: What are the three attributes that you think an entrepreneur should have?
Thorben:
The ability to work, live and sleep comfortably without ever knowing tomorrow!
The ability to inspire others!
The ability to listen: [Please suggest attribute here:…………….] (-:
BL: How do you see Orsiso to fit into the plethora of online social networks out there? Where do you think that the industry of online social networks will head to?
Thorben: Everybody talks about FaceBook, but there are many very cool social networks in existence. We are giving the users an opportunity to explore new networks without having to be a slave of login pages, usernames and passwords.
The networks will like us, because we bring the audience back to their sites to take action. We don't want to hold the user for longer than it takes to provide the intelligence for the user to get inspired to socialize on relevant events… we want to be the starting point, just like Google is the starting point for peoples daily movements on the web!
We are aiming at helping users and the Networks equally!