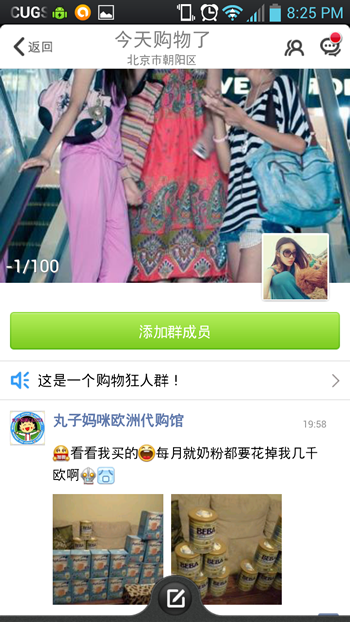 The second WeChat competitor to be released (hat-tip to Technode for spotting) in China this month comes from Sina, the maker of Twitter-like Sina Weibo. Less than two weeks ago, Netease and China Telecom jointly released Yixin, which was decidedly dead on arrival. With WeChat's dominance overshadowing any new messaging app, the prospects for Sina's WeMeet (Weimi, in Chinese) don't look much better.
WeMeet rolls your Weibo feed, RSS feeds, and a chat app all into one. The defining characteristic is the app's focus on groups. You can join an existing group or make your own. Every group has a shared profile page with a timeline that looks strikingly similar to WeChat's Moments. Give that page a swipe, and the screen flips to the group chat, where live conversations take place. Like most modern messaging apps, the app supports voice chat, location sharing, and photo sharing.
WeMeet will get an advantage over Yixin by tapping into Sina Weibo's 54 million-strong active user base, but whether it can go toe-to-toe with WeChat's nearly 240 million is another matter. The emphasis on groups could be the app's saving grace. Whereas WeChat groups only allow 30 people before forcing the group leader to add them manually, WeMeet could be extremely useful for larger groups of people. Large Meetup groups come to mind. For instance, I don't want to scroll up through the last 50 messages every time I need to find out what's going on in a group. WeMeet makes it possible to separate the big announcements from the day-to-day chatter.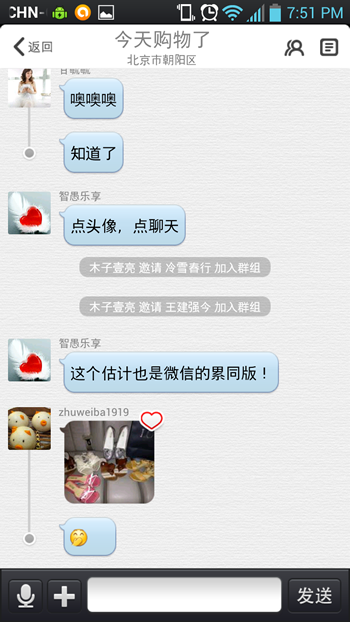 To be honest, I downloaded the app with heavy skepticism. But after my test run, I can actually see a place for it next to my other chat apps. The multi-functionality combined with the practical application for groups could be a recipe for success. Whether or not it can gain the traction to remain relevant, however, remains to be seen. But one thing's for sure: Sina apparently sees the mobile chat app space to be an important one. Following WeChat's growing popularity in China, Sina CEO Charles Chao saw a drop in usage in Weibo earlier this year, but insisted that WeChat wasn't the cause in its dip. With this direct move into the chat app space with WeMeet, it seems to suggest that WeChat is slowly growing to be a threat to Sina Weibo, snatching eyeballs away from the Twitter-like service.
The app is only available in Chinese, for now. You can download it on iOS and Android here.
(Editing by Willis Wee)