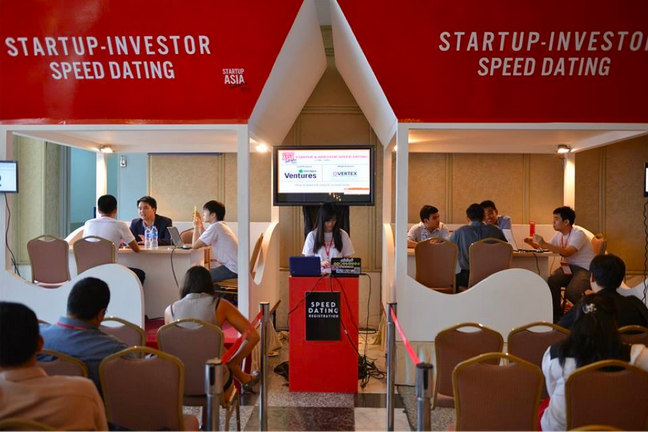 Asia is filled with great startups and investors. But its diversity and massive population are both a blessing and a curse. Great startups don't always get spotted and brilliant but young entrepreneurs may lack the network and opportunity to meet investors. To bridge the gap between startups and investors, Tech In Asia is organising its second Startup & Investor Speed Dating at Startup Asia Singapore, happening on May 7 and 8 at Biopolis
Looking back, our first Startup & Investor Speed Dating at Startup Asia Jakarta was a huge success. Over the two days, we had more than 300 startup pitches to 24 investors! This year, we will be inviting 36 investors. Some of the investors include GREE Ventures, Red Dot Ventures, JFDI.Asia, Rakuten Ventures, Rebright Partners and Soft Venture. We have arranged for each of the investors to station themselves at an exclusive booth where startups can get a chance to network and pitch their ideas. Startups will be given five minutes of pitch time with each investor.
Startup founders, this will be your moment to impress the investors and get them to contact you for possible investment opportunities. If you are looking for investments and awareness, register for Startup Asia Singapore using the earlybird code earlybirdmarch and fill in this form to join in.
For investors who are interested in being a part of Startup & Investor Speed Dating, please fill in this form.