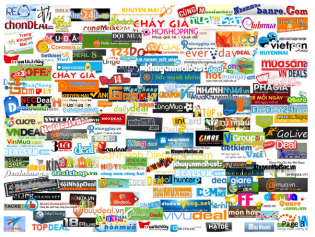 Although Nhom Mua, Vietnam's leading group-buying site, is finally back online, the news of its investigation by authorities – and the website takedown – has sent shockwaves throughout the startup community and Nhom Mua's many customers nationwide. With some customers are left stranded, unable to use their coupons nationwide, it harkens to larger Vietnamese economic controversies. Now, there seems to be two directions that the online group-buying market could go in Vietnam.
Will there be an increased skepticism of web companies, as evidenced by consistent low spending in online advertising, a market that group-buying sites are eager to penetrate? Or will Nhom Mua's brief fall signal a chance for the mass of Groupon clones to jump in?
At last count, in November 2011, there were 97 Groupon clones in the market with 10 players at the head of the pack. Nhom Mua was at the front along with Muachung.vn. The success of Nhom Mua was not just paved by its relationship with Diadiem.com, the leading local location-based web service, but also because of its solution to a still-looming problem in Vietnam: e-payment systems. Nhom Mua adapted to a market that has still not implemented widespread credit card payments by instead using a cash-on-delivery (COD) system.
A recurring theme I've been seeing at conferences in Saigon is e-payment is one of Vietnam's greatest obstacles to growth in the online space. Successful models thus far have ignored the problem by going straight to COD. With Nhom Mua's recent fall from grace, and the baby Nhom Muas with a fresh market to jump into, it's only a matter of time before new companies rise into prominence. An increased skepticism of the online space is low on the list of dangers though. With the internet penetration at 34 percent and an increasing portion of them moving into social media, the online market is getting bigger and bigger. Although companies and people may not be trusting of web content, they are learning more and more to be dependent on it.
The problem that these baby Vietnamese Groupons face is a surging interest in e-commerce and what some believe are key fallacies in the Groupon business model. E-commerce provides small and big businesses with access to the same customers, and also bring discounts to consumers. Businesses have also been learning the hard way that discounts on their products are negatively impacting public perception of their goods and services. Whether or not these new group buying players can come into the market, (or Nhom Mua will salvage its reputation) and deal with new business models that are more appealing to businesses, remains to be seen.