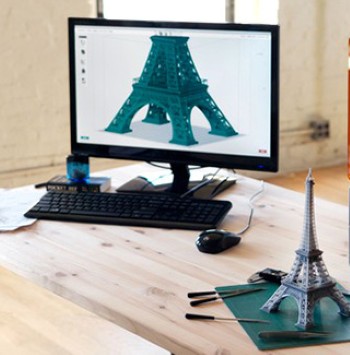 As reality catches up to the hype of 3D printing, the DIY consumer market dwindles. But the co-founders of China-based Imagineers, Gu Wei and Eddie Chen, say there isn't too much hype; it's just misplaced. The DIY segment, according to them, is dwarfed by the demand for enterprise and industrial 3D printing solutions, which is where they plan to make bank.
The pair created a company that caters to the needs of those customers. Imagineers makes its own 3D-printer, which retails for $1,000 and is similar to the Makerbot's popular Replicator model line. But that's just the product side of their business. The other half lies in the two main services Imagineers provides.
Low-cost prototyping
The first is low-cost rapid prototyping. Chen and Gu say this market is saturated in the US, but it still has a lot of room to grow in China. On average, if you want less than 20 of something made, they say 3D printing is more cost effective and efficient compared to casting. That's a good solution for a design firm or R&D department on a tight budget.
(See also: 3D Printer Maker Pirate3D Now Aims for $1 Million on Kickstarter)
Their second service is system integration. For example, a company can pay Imagineers to install three of their own 3D printers, one $300,000 high-precision full-color printer, and a suite of software for scanning and 3D design. They'll even teach you how to use all of it. Chen and Gu say it only takes about five minutes to learn how to scan an object with 123D Catch and about a day to nail down the basics of Caxa, a Chinese design program. Right now, they say software is a bottleneck for the 3D printing industry because it's not easy to use.
Eye on Chinese schools
The market for system integration includes engineers and designers, but Imagineers also found a less obvious niche: students. They've already worked with two high schools in China to install the above package for kids taking design courses. They even write the curriculum. While they hope to get the technology in the hands of more students, Chen admits it would be easier if individual schools in China had more control over their own funds.
Imagineers is only one year old, but they have big plans for the long term. They say today's leading 3D printer manufacturers, Stratasys and 3D Systems, aren't innovating anymore. Chen and Gu say the future market will shift from rapid prototyping to manufacturing final parts. They foresee big centralized 3D printing factories, where designers can remotely design and use more advanced and precise 3D printers in the cloud, what they call "intelligent processing and control."
The pair are based at Tsinghua University in Beijing, from which they got a one-time funding of about RMB 200,000 (about $33,000) and have access to the school's other resources. It seems they're getting into the market at the right time. The Chinese government is throwing money at 3D printing, possibly fearing the technology could up-end its manufacturing industry. Chen says:
The Chinese government wants to promote 3D printing, but they don't know how to do it. All they have is money.