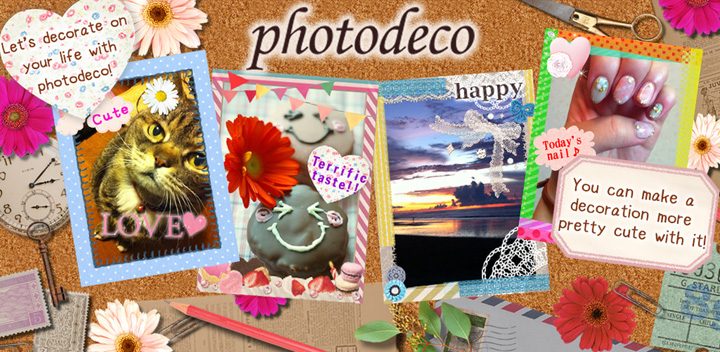 Made by Japanese mobile giant I-Freek, the photo customization app Photodeco has hit 500,000 downloads in nine months. I-Freek, however, declined to share Photodeco's monthly active user numbers. The Japanese mobile app helps users decorate their images with cutesy stamps, frames, and effects, such as the one above.
The app was first launched last June and is available on Android, iOS, and Amazon's Kindle Fire with 20 percent of its users outside of Japan. Taiwan, which has a similarly cutesy culture, makes up 10 percent of all Photodeco's downloads.
Photodeco is available for free and also has a paid version at Photodeco+ which currently has about 2,000 users. Photodeco makes money when users download premium stamps and frames. The photo decoration app is available in English, Chinese, Japanese, and Korean and is featured on the Docomo and Softbank app stores, so it has good visibility from two of the largest telcos in Japan.
Photodeco competes with DecoAlbum, which coincidentally is also a Japanese startup, and who recently received $100,000 seed funding from East Ventures. That app has had one million downloads so far with about 50 percent of them being monthly active users.