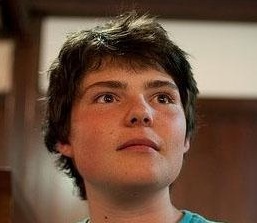 17-year-old Lachy Groom knows a thing or two about running full-fledged, online businesses. At 11-years-old, he started learning to code in HTML and CSS, and by the age of 13, he founded PSDtoWP, a company that turned PhotoShop files into WordPress pages. The company was sold nine months later.
Next, he started PAGGStack.com, a website that sells nutritional supplements to customers around the world. Again, he sold the company in months. By the age of 15, Lachy was already onto his third online business, iPadCaseFinder. Launched in 2010, the site lets users search for iPad cases and find out where to buy them. The website was successfully acquired.
He then moved on to his next two ideas, which he still owns today. The first is Cardnap, which is a site for visitors to buy and resell discount gift cards. The second one is TheWP.co,  which builds WordPress sites from scratch and also offers Photoshop file to WordPress conversion.
Lachy now has his eyes set on Silicon Valley. He has visited regularly to absorb the culture and interacting with entrepreneurs. He has also kept a keen eye on Dev Bootcamp, a startup that turns total noobs into novice web developers in 10 weeks. Passionate about education, he hopes to one day start a company in the industry.
But one thing stands in his way.
With such an impressive résumé, you'd think Lachy would have no problems getting a work visa to stay in San Francisco. But his age and lack of a university degree mean that he is excluded from the primary visa for immigrants with specialized skills.
His best bet now lies with the O-1 visa, which grants entry to individuals that "demonstrate extraordinary ability by sustained national or international acclaim and must be coming temporarily to the United States to continue work in the area of extraordinary ability."
While a lawyer is busy putting together the application for him, we found a chance to chat with him over Skype on his thoughts on entrepreneurship and where today's opportunities lie.
SGE: You've said before that starting a business is more about anticipating the wave rather than riding the tail end of it. How do you train or develop the sense for it and do you think it's something that's inherent in certain people?
Lachy: An element of it is inherent. It's something that some people have and others don't. It can definitely be developed to an extent. I mean, it really takes some awareness of the surroundings and constantly consuming news and being aware of what's happening in the scene. Some people are better at it than others; at discerning the facts from the bullshit.
How did you discover that you have this ability or talent?
It mostly came through previous successes. A lot of people go: 'Yeah, I had that idea six months ago.' When something blows up, I noticed it very quickly and I knew it was going to be big. That came with a few of my business ideas. It's mostly noticing at the time that a trend is about to take off and thinking this is big and you should get in on it. With the iPadCaseFinder, a lot of people thought the iPad would be a flop but I thought it was fairly obvious that it would become huge.
What would you think are some of the trends today that are about to go big? If you were to start a business now, what would you do?
Education is one. We're seeing the rise of startups like Coursera, Udacity, edX, and other startups like General Assembly, DevBootcamp, and Codecademy; I think we're just in the beginning of the growth. A lot is happening right now, I think it will go up exponentially.
What is changing about this field and this industry?
I think the shift to online and decentralized education is growing a lot more. We're seeing access to higher quality education for people that wouldn't necessary be able to afford it. We're seeing Harvard-level material being made available to the masses. It's about abundance and decentralization.
You've sold a few businesses. What generally advice would you give based on your experiences to entrepreneurs who are looking to sell their businesses?
Two things come to mind: I've always sold too early. I've always sold just before they're about to grow more or just before something big was about to happen. I could've pulled a bit more out of them. I would say evaluate why you're trying to sell it and think: Is now the right time? Is it better to wait or grow it more, or do I really need to sell it now? That will be one piece. Another piece is to be confident and ask for more than you initially think it's worth.
What are some successful things you did at your startups that made them successful?
The number one thing that every marketer says is networking. If you create the right product but no one hears about it, it's going to fail. In pretty much all my businesses I have relied on contacts I've made in my previous ones to help boost them, to be the first customers, the first word of mouth. Cultivate your network, never burn bridges. The best way to build a network is to be a source of knowledge in a field, become very good at it, and other people will build your network by seeking advice from you.
So what are you an expert in?
A lot of people come to me for general marketing and PR help. To be very specific, I also got very good at the business of PSD conversion. I got very good at content consulting, a lot of people come to me when they're starting content consulting businesses. And WordPress. I got really good at WordPress and WordPress consulting.
A balance needs to be struck between product development and marketing. How do you strike the balance?
I think if you're doing it right you can do them both simultaneously. Some of the best products out there, for example the Apple products, have brilliant design, brilliant user experiences, and user interfaces. I think having great design and great user experience are some of the best marketing you can do. People will pick up whatever you do if it's a fantastic and easy to use. One way to strike a balance is to focus on user experience because that's what marketing is all about; it' all about the users, you make the experience great, it will do half the marketing for you. Make sure you've validated your idea before starting on it. Make sure you know there are customers that want to use your product, and then create it, then you know that when you're marketing it there will be customers.
How much time do you devote to the marketing and networking aspects of the business?
I usually go in a few phases. If I get an idea I'll spend a week or two validating it and make sure there are customers and finding out that my idea has some use case. Then I'll create it, I'll keep telling people about it, I'll spend the majority of time building the MVP. And then I'll spend two to three weeks marketing it, getting press ready, social media ready.
How do you decide which social media channel to use?
I think it depends on the startup. I think Twitter has been one of the best methods of marketing for an e-commerce site with a specific purpose. For example, with PAGGStack.com, all I did during the day was spending time answering questions about the product to people asking questions on Twitter. Twitter is incredibly powerful; just using Twitter search to find people talking about relevant things and finding them useful answers. I find that if you answer someone's questions, they'll be interested in you, why did you answer them, what are you up to, and then they discover your products and will probably buy it. I think for e-commerce, Twitter is fantastic because you've got discovery, whereas Facebook is more for communicating with an existing fanbase.
What are some mistakes or failures you've had?
I should've learnt to code a lot earlier. I think its a mistake not knowing how to code. You want to learn that as soon as possible, so that you can validate ideas without hiring others, you can build things, you can do so much more; its like someone running a carpenting business without knowing the skill of carpentry; it's insane.
How did not knowing how to code hurt you?
I think I was very lucky, I found very helpful and good developers but there were times where we hired the wrong the people and they would ruin the idea; we killed it before it even took off. Not knowing these things can kill your idea before they have the opportunity to see the light of day. Me and a friend were going to develop a product and we hired a firm and they didn't do the product right. It killed a great idea.
Does it help in hiring?
Definitely. I can recognize decent code from bad code. I can recognize the attitude and the problem-solving aspect. Some people will throw out a lot of buzzwords and then you go, 'what's that one?', because you know about it, and they won't be able to tell you. So it provides great context and some good methods to weed people out.
(Read: Hiring developers blindly dooms startups — here's how to avoid that fate, When finding a technical co-founder for your mobile-web startup is a horrible idea)
Being 17, how do you earn the respect of people? What advice would you give to student or young entrepreneurs?
The easiest way is to prove yourself. In the field of technology, knowing how to program is a fantastic way to prove yourself. Let your skill speak for you. If you're talking to an older developer, if they can see you know what you're talking about that will break all barriers. In the line of proving yourself, having sold a startup has helped me alot. People go, 'okay that's legitimate'. When people introduce me to others, they'll often paste some of the press links that I've received, which often establishes credibility. It's like if you go to popular web app websites you'll see logos to press; it establishes credibility, I find that the same works for entrepreneurs.
What motivates you to be an entrepreneur?
The main motivation is my enjoyment of building products. It's like the thrill of the chase, the thrill of the setting up of the business and developing ideas and working with the designer and getting it going. I really enjoy the process of building things.
What are your thoughts on the startup ecosystem in Asia and Australia?
I think it's very underestimated. I see a lot of people say that the US is the only option but the population in Asia is great and there's such an opportunity to build large businesses. Also in Asia the technology adoption is very high, a lot of people have Internet, a lot of people have personal computers. Especially Singapore, it's taking off as a startup hub. You're seeing a lot of startup activity on the East coast of Australia and hopefully that would grow a lot more, definitely nothing compares to Silicon Valley but I'm seeing a lot of growth in Asia and I really do hope that it persists. I think Singapore has an advantage in how good the immigration system is whereas here in the US it's terrible. If you're an international developer you can't make it to Silicon Valley you should go to Singapore or Australia. They're doing well, but they still have a long way to go.
Is fragmentation in Asia an obstacle to startups?
Fragmentation shouldn't be seen as an issue. It sould be taken advantage of. It's like we've got this great tourist ecosystem and we've got a whole lot of tourists coming in, so lets create startups around that.
END