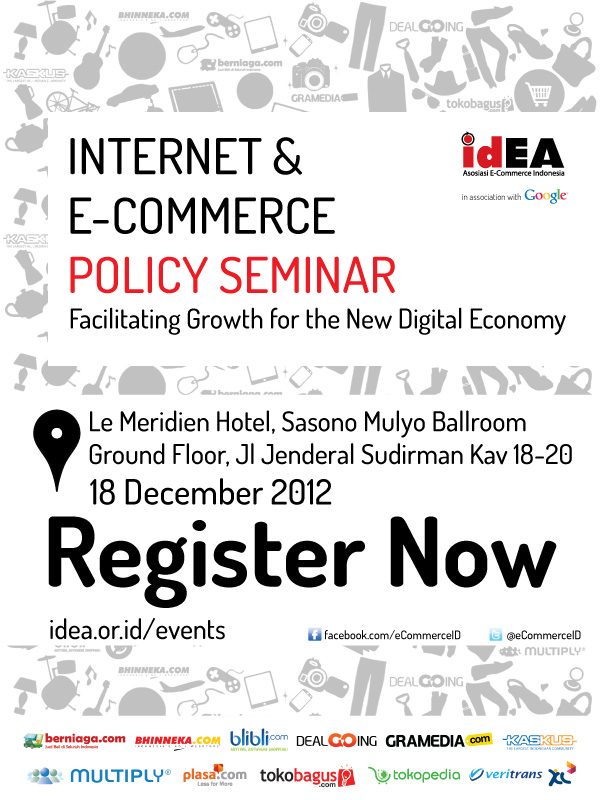 The Association of E-commerce Indonesia (IdEA) was assembled by heavyweight Indonesian e-commerce players back in May to help spur the growth of Indonesia's online shopping industry. The current twelve members consist of Berniaga, Bhinneka, BliBli, DealGoing, Gramedia, Kaskus, Multiply, Plasa, Tokobagus, Tokopedia, Veritrans, and XL Axiata. The association is going to hold its first policy seminar later this month. Here are the details:
Date and time: December 18th (Tuesday), from 10 AM to 4 PM
Venue: Le Meridien Hotel, Sasono Mulyo Ballroom, Jakarta, Indonesia
Price: IDR 1 million ($104) per person; free passes for students
Maximum number of participants: 350
Registration deadline: December 10th
The event promises to discuss the latest insights and developments in the Indonesian e-commerce industry, and will include the views of government officials and regulators. Participants will also get the chance to meet with the e-commerce players. The event is also supported by Google.
The seminar will have speakers from both the association's members and also some expert panels. The names are yet to be disclosed. For more information and to register at the event, you can check it out here.
In the meantime, IdEA has also finalized its organizational structure. It has experienced e-commerce players such as Kaskus' Ken Dean Law, TokoBagus' Michal Klar, and Multiply's Stefan Magdalinski as part of its board of advisors and supervisors.