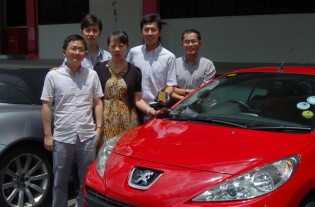 iCarsClub, a peer-to-peer marketplace for renting cars, today announced that it has successfully raised S$589,000 (US$482,000) from Red Dot Ventures, where the latter is under the National Research Foundation's Technology Incubator Scheme.
With this investment, Singapore-based iCarsClub is looking to expand the business to other countries within the region. As mentioned in our previous coverage on iCarsClub, the team (pictured right) is made up of mostly mainland Chinese exptrepreneurs, hailing from backgrounds at Tsinghua University and Baidu. Naturally, the first step in the expansion plans would be to their homeland, China, kicking off in major cities such as Beijing and Shanghai. Its goal for China this year is to have 1,000 participating cars in its marketplace.
The numbers seem pretty encouraging for the team at iCarsClub. Just three months from its official launch last December, the company has 3,000 members in its database with over 300 cars available. The five-man team has also set goals for 2013 – to gather a total of 5,000 members and 1,000 cars.