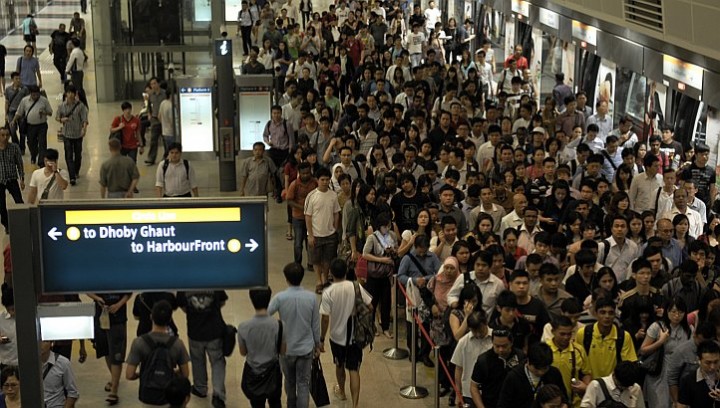 Public transportation has been a subject of great discontent over the past few years. With sky-high car ownership costs in the island-state, it comes as no surprise that citizens turn to trains and buses as their main mode of transportation. In fact, according to Desmond Kuek, CEO of SMRT Corporation Ltd (SMRT), over 6.3 million passenger trips are made daily across the Singapore transport system, and each day trains cumulatively run one-and-a-half times the circumference around the Earth's equator – that's about 40,000km.
In recent years, however, disruptions have become frequent occurrences in Singaporeans' daily commute, justifiably causing much unhappiness. For example, in 2012, multiple train breakdowns caused SMRT to be fined a sum of S$2 million back in 2012. As a result of these inefficiencies, heads have rolled, complaints have been issued; and while Transport Minister Lui Tuck Yew promised that he would improve the Mass Rapid Transit (MRT) system, these incidents continue to happen on a too-often basis.
In a bid to address these problems, the Land Transport Authority of Singapore (LTA), SMRT, StarHub and IBM (NYSE: IBM) have put their heads together and come up with a solution, aptly titled Fusion AnalyticS for public Transport Emergency Response, or FASTER.
Specifically, the LTA and IBM will combine farecard data and information provided by industry partners SMRT and StarHub, and use data-driven analytic models to provide situational awareness, impact prediction, and actionable insights for mitigating any anticipated impacts at hand. In doing so, they hope to improve the public transport system, and by extension, the commuter experience.
As part of the agreement, SMRT will provide video data from selected MRT stations, while StarHub will provide anonymized telecommunications data to track commuters' movements on an aggregate-level from point to point. "Through this research collaboration with IBM, SMRT, and StarHub, we endeavor to harness intelligence from the myriad of data collected, and in turn, these analytics will enable us and the transport operators to better manage public transport incidents and special events through improved resource allocation and pre-emptive crowd management," said LTA's Chief Executive, Chew Hock Yong.
A Smarter Singapore?
This collaboration is part of IBM's mission to help cities leverage the information that is already available to deliver better citizen services. To borrow their phrase, IBM wants to create a "Smarter City," which they define as any urban area that exploits information to optimize the delivery of city services. The American multinational corporation has embarked on multiple projects under this initiative, such as traffic management, smart grids, water systems, healthcare, emergency management, and city operations. In the case of Singapore, they have chosen to focus on the transport system.
(See: Reinventing four wheels: 14 apps that are changing the way we get around)
Having caught a glimpse of IBM's soon-to-be-implemented analytics solution, I was impressed by the amount of actionable data that could be provided through this collaboration. The scenario painted during the demonstration was that of a typical train breakdown in Singapore. Using data drawn from the current road traffic situation, as well as traffic police and bus locations, a hypothetical operator was able to quickly create a bus bridge plan to ferry commuters over to the most convenient location possible.
With all this information at hand, there will certainly be greater situational awareness at train stations and bus interchanges, transport operators can better identify patterns, develop contingency plans, and predict when, how, and which commuters will be be affected upstream and downstream.
In addition, the system will also give transport operators insight into Singapore's mobility patterns, and provide a basis for recommendations with regard to improvements in bus routes or schedules. Put together, transport authorities have an all-encompassing view of the entire commuter environment in Singapore.
(Image credit: The Real Singapore)