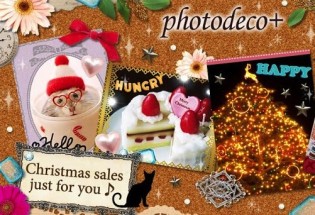 Japanese mobile internet company I-Freek has announced today that it has released Photodeco+ for Android, a premium version of its regular Photodeco camera application which has already seen over 350,000 downloads on Google Play.
The app lets uses add cute stamps and frames to their photographs (i.e. photo + decoration = photodeco) as well as add photo effects. Stamps are themed by handy categories such as people, or food, or scenery.
As with most of these uber-cute decorative apps, girls are the primary target customers. And we're told by the folks at I-Freek most of its user base is female in its home market of Japan. But it also enjoys popularity elsewhere, with 20 percent of its users in Taiwan, Hong Kong, South Korea, Thailand, Singapore, China, Malaysia, and Indonesia.
The new Photodeco+ app includes a wider variety of stamps, frames, and image effects, and is currently available for the discounted price of 99 yen. I took the free app for a spin, and works pretty well. From the looks of it, the premium app will allow you to not only share with Twitter and Facebook, but also Japan's Mixi and China's Renren (see promo images below).
I'm told that the company has an iOS version of Photodeco+ coming out by the end of this year, and that they are just wrapping up development on that. If you'd like to try the free version for iOS, you can get that over on the app store.
Readers may remember that we spoke to the folks at I-Freek last year about its first international office in Singapore. You can check out that conversation here.