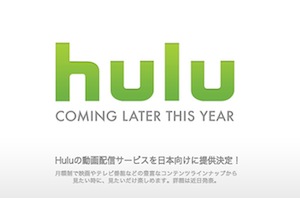 Hulu announced today that it will be bringing its streaming service to Japan. Hulu.jp is now online, and users can sign up to receive more details about the launch, said to happen later this year.
Jason Kincaid on TechCrunch seems to think that it will be a premium service only, which wouldn't surprise me given how strongly TV and film copyright is protected in Japan. We questioned a Hulu representative on this point a few hours ago, but they're declining to elaborate on international plans beyond what was already stated in the Hulu blog announcement.
Regardless, it will be good to see streaming TV and movie services in Japan. Hulu senior VP for international business Johannes Larcher explained the motivations for its first foreign expansion:
In Japan, we also see an unfulfilled market need with respect to premium feature film and TV content, and very favorable environmental factors to a service like ours, including extensive broadband penetration, smart phone and other internet-connected device ubiquity, and strong consumer interest. We have been able to use what we have learned from Hulu and Hulu Plus, in addition to the insights gleaned from our market research, to design a high value product specifically tailored for Japanese customers.
It's good news for Japan, and with any luck Netflix – which has even bigger expansion plans in the works – will head for Asian nations sometime soon as well.