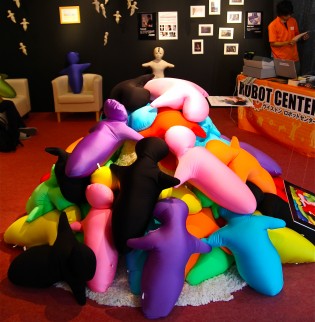 Last weekend I had a chance to visit the Vstone store in Akihabara, where Osaka University roboticist/professor Hiroshi Ishiguro has his wonderful new Hugvie on display. The device is essentially a soft, human-shaped [1] pillow which uses microcontrollers and vibrator motors to produce various feedback when you make a phone call.
You put your mobile phone inside the pillow, and the vibrators produce a sort of heartbeat and physical feedback that corresponds to the volume or tone of the callers voice.
While many people might dismiss this as being creepy or just another example of 'weird Japan,' such ideas are important steps in the development of communication interfaces. Mobile phones are all well and good, but there's no rule that says we can't explore other interfaces, and there's no reason why we need to restrict communication to audio only. A device like the Hugvie would, of course, be especially useful for seniors or children.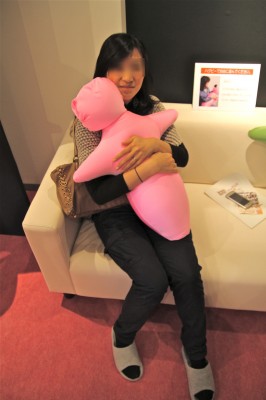 Professor Ishiguro notes (below) that if the Hugvie were outfitted with an internal frame with vibrators and sensors, then if you hug it, the other persons robot could relay that hug. This is the same sort of principle that we saw from students at the University of Electro-Communications who made an internet 'tele-kissing' machine. That's perhaps an even stranger device, but still a very interesting design idea. I can't help but wonder what would happen if you combined both of the above designs with something like Vibease… That would be something!
The Hugvie will be sold by Vstone for about $60. The device did display a few hiccups when I visited the store, so if you're planning to buy, it might be wise to try it first.
You can find out more about below in Diginfo News's short interview with professor Ishiguro.