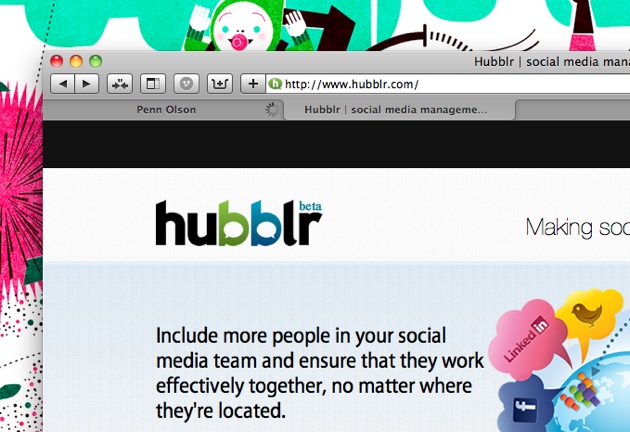 There are a lot of social media dashboards out there that try to bring together your social missives, but only one includes integration with China's hippest social network – that's Hubblr.
It's a brand-new, enterprise-oriented web app from an Australian start-up that's aimed at making PR and online marketing across the globe – including China – a safer and slicker experience.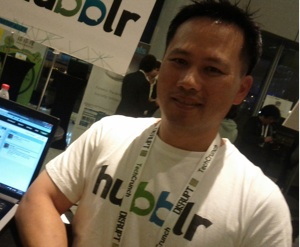 Hubblr's CEO and co-founder, Michael Lam (pictured right), gave me a guided tour over Skype, and then we coincidentally ran into each other again at TC Disrupt Beijing last week, giving me ample time to get a feel for the service.
Right now, Michael says, it's in private beta and free – but it will launch soon and come ready with a number of packages for brands to do their global marketing and PR. Apart from multi-posting to Twitter, Facebook, Sina Weibo, and LinkedIn, it also features analytics, a profanity filter, one-click translation, embedded image viewing, scheduling, and some advanced gizmos for marketing professionals to follow-up on individual tweets. They're also "working on Renren and Tencent Weibo" integration.
Hubblr is, he tells me, a spin-off from Cornerstone Tech, and is "now boot-strapping, looking for funding."
---
Weibo Marketing to China
---
Asked what Hubblr offers, he says, "It's aimed at global brands who operate in China. It gives them visibility. Plus, it's real-time and instantaneous, and gives brands immediate feedback." Michael adds:
It can prevent a PR disaster by blocking swearing, and you can add any words to monitor, such as your brand name – or even a misspelling of your brand name.
The stats and analytics begin from a user's first day on Hubblr, and include monitoring of posting levels and follower counts.
The last time we looked at corporate use of social media across Asia, we found that microblogs – i.e. Twitter and Weibo – were now second only to broader social networks such as Facebook in terms of them being used for engaging with consumers. But, in China, a brand's presence on Sina or Tencent Weibo is now arguably more essential than being on, say, Renren.
---
Simul-Posting Dashboard
---
Aware that his start-up risks getting blocked in China, Michael has "implemented an IP filter" so that it cannot post to Twitter and Facebook for users in China. And so the emphasis is firmly on enterprise users overseas reaching out to Chinese consumers, and not for individuals looking to tweet behind the GFW (as HootSuite and Seesmic used to be able to do, before Net Nanny blocked them).
Personally, I don't think it's a good idea to multi-post the exact same thing to different social networks – especially not if there's a language barrier between the two. But that's not an issue on Hubblr, as it can be used as a launchpad for posts to any social network either separately or simultaneously, and you still get the benefits of the other features. That means an overseas company can easily manage its Sina Weibo account, despite the original site not having an English localisation.
If you're with a company and would like to take Hubblr for a blast, click the link to reveal the Hubblr email address and fire them an email with "Penn-Olson invite" in the subject – you'll be given priority access to the private beta.