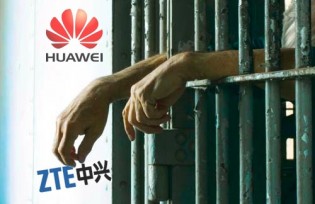 Chinese mobile phone giants Huawei and ZTE have been met with more than a little skepticism in their efforts to move beyond the Chinese market. But suspicions of corruption and spying are one thing, convictions are quite another. In Algeria, select Huawei and ZTE executives got a dose of the latter recently when an Algeria court sentenced them to ten years in prison.
The men — ZTE's Dong Tao and Chen Zhibo and Huawei's Xiao Chunfa — were accused of involvement in a bribery scandal that saw they attempting to gain advantages for their companies with state-owned Algérie Télécom. The men were tried in absentia, found guilty, and sentenced to ten years in prison, as well as fined five million dinars (about $65,000). The companies Huawei and ZTE have also been fined and banned from partnerships with state-owned companies in Algeria for two years.
Unsurprisingly, the companies have denied the bribery charges, and Huawei told Light Reading that the charges were "very serious" and that it was investigating them. Supposedly, international arrest warrants have also been issued.
Whether they're guilty or not, Dong, Chen, and Xiao can probably rest easy; it seems unlikely that China would extradite them. But their conviction on corruption charges will only accelerate the swirling suspicions that Chinese tech companies are untrustworthy.
[Light Reading via Sina Tech]