An investigation into what makes up the e-waste that's piling onto China's massive Guiyu landfill has found that it contains not just old computers and gadgets from consumers around the world, but also nearly-new but defective items from HP, Samsung, and Panasonic; some of them were returned for repair, but seem to have been scrapped instead. In addition, there were unused or returned parts from chipmaker AMD (NYSE:AMD). The find was made by Adam Minter, author of the Shanghai Scrap blog, in a visit to the vast dump in southern China's Guangdong province.
[UPDATE on April 19th, 24 hours after publishing: Samsung has responded, saying that the parts found at the landfill were "old" and put there by a third-party, not directly from the company. See the full story here].
[UPDATE on April 23rd, 5 days after publishing: HP has now also responded to the images of its "out of warranty" hard-drives at the dump (albeit with no supporting evidence of its own), stating that it "remains committed to the responsible disposal of e-waste and is thoroughly investigating this matter. HP aims to prevent e-waste from entering landfills through a variety of vendor reuse and recycling programs"].
The blogger, who's researching for a book on the global scrap trade, was able to photograph the bar codes and other paperwork attached to some of the nearly-new parts. In a box of HP (NYSE:HPQ) hard-drives, many had been labelled as "Disqualified: Out of warranty" (pictured above), while on a Panasonic (TYO:6752) computer monitor there was a hand-written pink slip (pictured below) saying that it had come in for repair due to display issues. In both those cases, the origin seemed to be Singapore: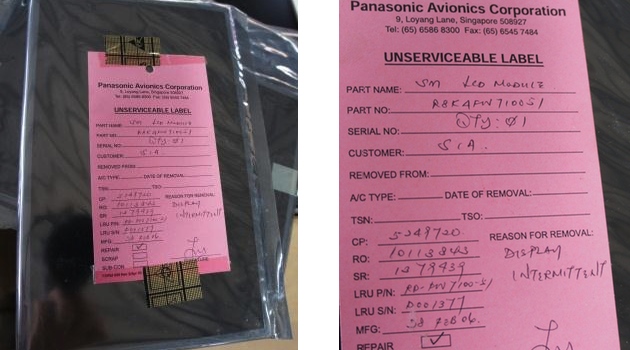 From Samsung (005930:KS) there were countless boxes of semi-conductors still in the original Samsung-branded boxes in which they left the factory [Update: Samsung says it has investigated, and the parts are old and were dumped by an unknown third-party. See more here]: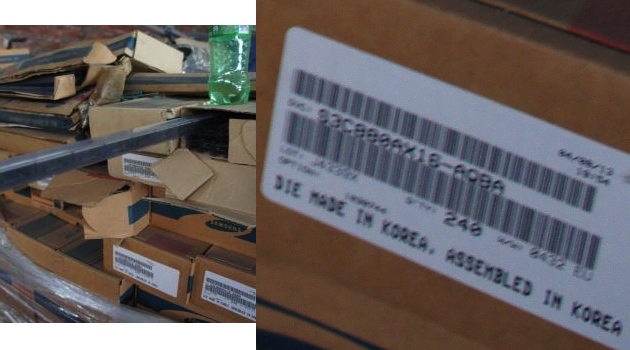 According to the Wikipedia page on the Guiyu landfill, the recycling methods (if they can be called that) used on the vast site are "toxic and dangerous to workers' health" and cause "88 percent of children suffering from lead poisoning" in neighboring villages. Essentially, workers at Guiyu salvage whatever's worth money in the gadgets and parts – such as gold, copper, silver, scrap metals – using primitive acid baths and other simple tools, with pretty much no protective equipment. To clarify: Guiyu is not a reprocessing factory – it's just an ad-hoc outdoor dump spread across four villages where some of China's poorest forage through the parts and make a living from what they can sell off.
This revelation of new but somewhat defective parts going straight to the dump raises many questions, principally why HP, Samsung, Panasonic, and AMD can find no better method to make use of the working parts that exist in these new components and gadgets. Also, does the dumping not contradict their own so-called green policies? With a great deal of media attention always focused on what Apple does at its Foxconn partner plants, it'd be a media disgrace for this to go ignored simply because some less headline-grabbing brands are involved in this.
Lamentably, HP and Samsung evaded questions from the Shanghai Scrap blogger for months, and did not respond to our queries today.
See the full report with more photos over on the Shanghai Scrap site.
---
EXTRA: So you can see the full horror of Guiyu, here are three images of the wider landfill area taken from across the web: