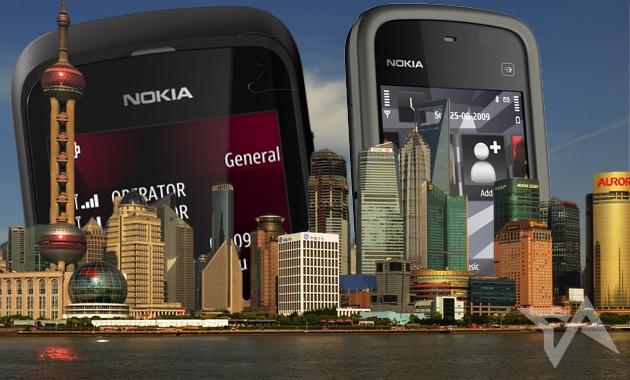 As we noted last week, Nokia sold only 4.1 million phones in China in the second quarter of this year. That puts the company close to where it was at in mid-2006, when Nokia (HEL:NOK1V; NYSE:NOK) had just managed to hitch a ride on China's economic miracle. But while China's GDP accelerated in the middle of the last decade, it was soon the end of Nokia's China dream. Now Nokia is like a giraffe in quicksand – it has a long time to rue its big mistake.
What essentially happened is that some major mis-steps and a lack of vision by Nokia – the kind of massive strategic errors that bring down corporations, or empires – left it without high-end products to satisfy China's fast-growing middle class. Even more painfully, that was also the exact same time that smartphones emerged. Helen Wang, author of The Chinese Dream: The Rise of the World's Largest Middle Class and What It Means to You, reckons that the country now has 300 million middle income individuals, who are younger than their counterparts in the US, and even more eager to display their relative wealth with luxury brands – or at least those with some cachet. Nokia became the phone of taxi drivers, waiters, farmer; it's the phone you give your grandma when you buy a new iPhone or a giant-screen Huawei or Samsung phone.
Chinese consumers have punished Nokia more than in any other region as they turn to Android devices and iPhones by the hundreds of millions. Nokia's flagship Lumia phones, running Microsoft's Windows Phone, look like great gadgets, but are still an unknown entity in the country.
The rest of Asia-Pacific, in comparison, has delivered not quite so precipitous a fall. Here's Nokia's sales slump in China and the region in one chart: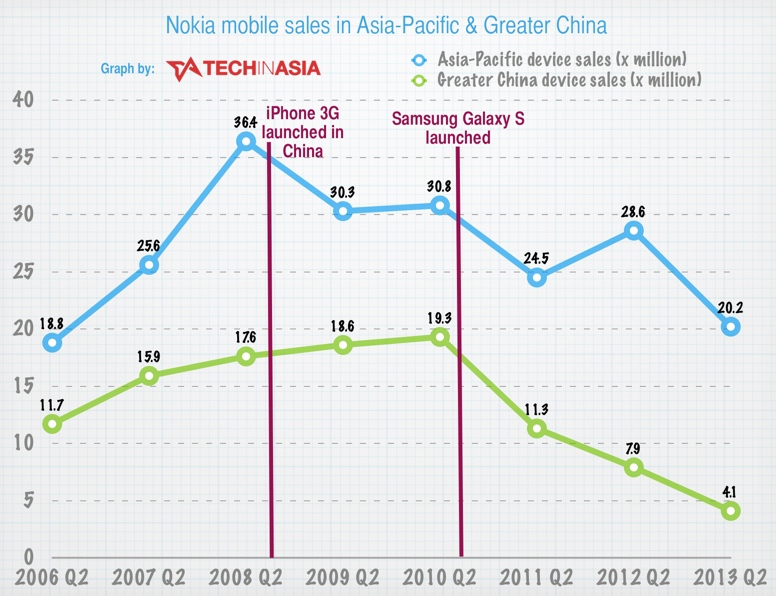 Phones without a market
Basically, from the time Apple's iPhone first appeared in 2007 to the launch of the Nokia Lumia 800 in China in March 2012, Nokia had nothing that China's middle classes wanted to buy. Yes, China still has a lot of feature phone users, but they were also finding plenty of alternatives among China's myriad budget or shanzhai phone-makers.
If we look at those same Nokia sales stats for China allied with the nation's GDP figures, we see enthusiasm for Nokia waning in 2007, and then a couple of years later, Nokia sales and China's GDP part ways entirely: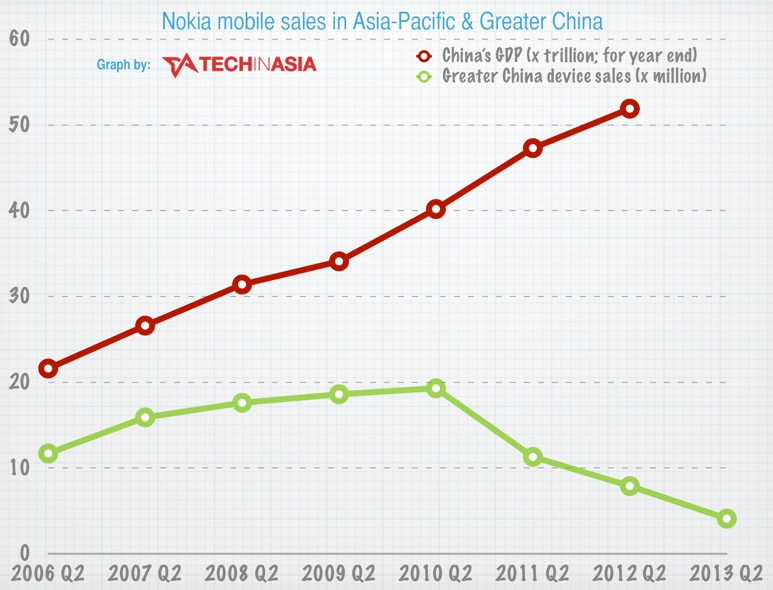 China's phone buyers delivered a message loud and clear to the company: it's not me – it's you.
Now it's 2013. It's years after phones like the original HTC Desire and the first Samsung Galaxy S lured Chinese consumers into the smartphone era – and onto Android – and Nokia is still struggling. To be hit by one change of fortune was unfortunate, but to be hit by two – a shift to smartphones at the same time China got wealthier – was a corporate catastrofuck. Looking at the decline in Nokia's numbers in the country from mid-2012 to the newest figures (dropping 48 percent), the Finnish company could be down to just one or two million China sales per quarter in 2014.
(Editing by Enricko Lukman)