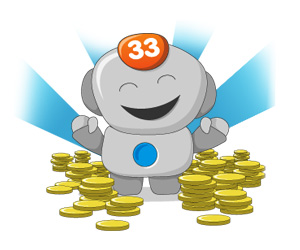 For an entrepreneur in Asia, building a great product isn't enough. Cash is king, and you need to know how to bring in the moolah.
In Asia, online business owners face many constraints. Common online payment methods like Paypal and credit cards aren't widely accepted in markets like Indonesia, Afghanistan, Bangladesh, and Nepal. It's a common complaint made by many e-commerce start-ups in this region.
It isn't the end of the world though. But these payment issues do force companies to create new ways to collect the cash. mig33 is one successful example. At the recent Founders Drinks in Singapore, Chris Chandler, VP of Business Development at mig33, shared how his company has successfully created a model to collect payments in this region.
In case you don't know what mig33 is, it's a mobile social network with over 50 million users, with strong presence in countries like Indonesia, Nepal, and Afghanistan. About half of its user base are Indonesians. On mig33 users can chat, play games, and occasionally, buy virtual goods for their friends like cupcakes, roses, and soft toys.
Instead of asking folks to key in their credit card or Paypal details for payment (which obviously isn't gonna work) mig33 has a group of enthusiastic merchants to help distribute its credits. Here's how it works:
Ali the merchant buy credits from mig33. At this stage, the money is already in mig33's bank account.
Billy, a user who needs to buy virtual cupcakes on the mobile social network, will purchase credits from Ali and pay him cash.
Ali will transfer mig33 credits to Billy's account on the spot
Ali smiles as he earns a 30 percent margin from the credits and goes back to mig33 for restock. The cycle goes on.
Chris also said that this model works as good marketing channel. Because as merchants are motivated to sell more credits, they will help spread the word about mig33 in the hopes of drawing in more users to the mobile social network.
mig33 has created an economy on its own where merchants can literally pay their monthly bills just by selling credits. Chris shared with us that an Indonesian merchant made $45,000 in revenue and has been with mig33 for over three years. Another merchant in Russia made $500 to $800 per month while attending school.
Chris also revealed that the company has sold over 30 million virtual goods so far and explained that the gift-exchange culture in Asia helped to boost the numbers. When someone receives a cupcake, he or she will feel obliged to buy and send one in return.
Lastly, Chris urges entrepreneurs who attended Founders Drinks not to be afraid of problems and instead, find a creative workaround in this market.