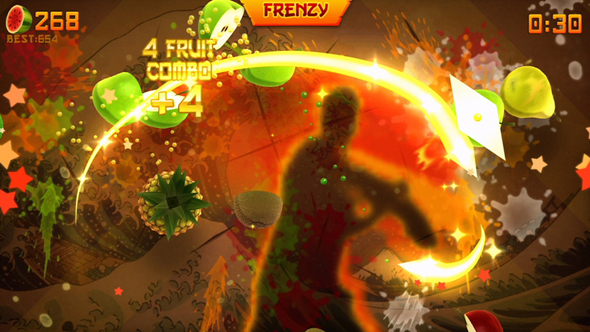 My dad loves Fruit Ninja. Yes, my 50-year-old career-soldier father who's also especially fond of playing slot machine games on Facebook. In fact, he likes slicing bananas so much that he would beg for my brother's phone just so he could achieve that 5-hit combo.
That's when you know a game has gone really mainstream.
Although not much of a fan myself (I've spent more time on Angry Birds), I was intrigued to hear from the founders of Australian games company Halfbrick Studios, the people behind Fruit Ninja, when they visited Singapore to talk to game developers. The event, aptly called Developer Dojo, was organized by Microsoft Singapore and tech blog e27.
After all, very few game studios have amassed 300 million downloads on one game and then followed that up with another mobile hit, Jetpack Joyride, which is a success in its own right with 14 million downloads.
I had to hear for myself how they did it. Here's what I've distilled from the one-day session on 15th September.
Focus on game design. Graphics and technology are secondary.
Many game studios have focused on pushing the envelope of graphics and technology. Halfbrick, on the other hand, decided that game design would be what sets them apart from the crowd, said Shaniniel Deo, the company's CEO.
This early decision allows them to focus on what matters most: Creating a good product. It guided their decision-making process even when they achieved success with Fruit Ninja, where using the right human-machine interface is key to the game's success. So, they made a conscious decision not to port the game over to platforms that would fundamentally change the gameplay experience.
Even when they did port something over, they would perfect the gameplay and make sure it works for the platform. When Halfbrick created a version of Fruit Ninja for XBox360 Kinect, they made sure that users were still able to chop the fruits accurately. Compromising on that front would've let many users down.
Game developers should promote their studio and not just their game.
Some game developers tend to hide behind their games. That may not be the best approach for fledgling game studios. Phil Larsen, CMO of Halfbrick, shared his experience of attending the Game Developer's Conference before Fruit Ninja was launched.
He reached out to the media there, but no one knew who he was.
To attract their attention, he had to talk about what the studio was and their past games. He had to make people care about what they're doing next. His groundwork with the media gave Fruit Ninja more press mileage.
"We set fruit ninja up to have the best chance of success," he said.
By the time he attended the next GDC, Fruit Ninja had gone crazy, and everyone wanted to talk to him.
Reaching out to key influencers in the media and the developer community with a story is as important as demonstrating a studio's games. Marketing is not just about creating a Facebook or Twitter page, and reaching out to nobody but your first Twitter follower.
It's about going out there and meeting people. New developers should share with others about why their companies matter. Firms that have been around for years can talk about their entrepreneurial journey and their future.
Getting the support of the developer community and the press could give a product the push it needs to go mainstream.
Great marketing doesn't need big budgets; just individualism and an understanding of marketing 101.
The first launch video for Fruit Ninja involved Halfbrick's lead programmer in a banana suit fighting with a ninja. It was an amateur production, but it still went viral. What made it work, explains Phil, was that the company's sense of humor, swagger, and whimsical approach came through.
It also contained a conversation starter: Ninjas hate fruits. The context of the marketing message was that while there were many fruit-related games then, they all had a nice, happy-clappy tone. This new narrative introduced something different, and it stuck.
No amount of marketing can rescue a bad game though. David Ogilvy, the father of advertising, once said that "great marketing only makes a bad product fail faster."
In marketing a game, developers must believe in it. If not, they'll lack the energy and X-factor when talking to people about it. Understanding the product is important too. Not all games can hit 300 million downloads, and being aware of that sets the right expectations.
"There's no secret formula to what we did," said Phil, showing slides highlighting the what's called the marketing mix — a concept which is easily Googlable.
Another noteworthy tip he gave on marketing was that leveraging on the right brands can take a game's popularity to the next level. Fruit Ninja has partnered with Nescafe and T-Mobile on marketing campaigns. Halfbrick took advantage of brand synergy between the Puss in Boots movie and Fruit Ninja as well.
Co-branding even influences how the studio names its titles. The Kinect version of Fruit Ninja, for example, was called 'Fruit Ninja Kinect'. It seems like a no-brainer, but Phil's reasoning was that since Microsoft has spent millions of dollars marketing the platform, Halfbrick might as well had taken advantage of that.
Check out some trailers for Fruit Ninja, and how the production values have gone up:
Game design may not make one the next Rovio, but it's a key ingredient for a viable business.
Behind Fruit Ninja's success is a story of perseverance, persistence, and failure — the bread and butter of any entrepreneurial narrative. Founded 11 years ago, Halfbrick had created 14 other titles before landing on their greatest hit.
"A lot of people think you can strike it rich overnight in the app space. It does happen, but it's a minority," said Shaniniel Deo.
With each product they release, they learnt something about it and took the insights to the next game. Fruit Ninja is a culmination of the knowledge they've picked up along the way.
"If you do all things right, eventually you're going to get that success. Even if not, you'll build a viable successful business," he added.
Eventually, consumers will get tired of games like Cut the Rope and Fruit Ninja. That's where excellent game design can sustain a business, and where upstart game studios can leave their mark.