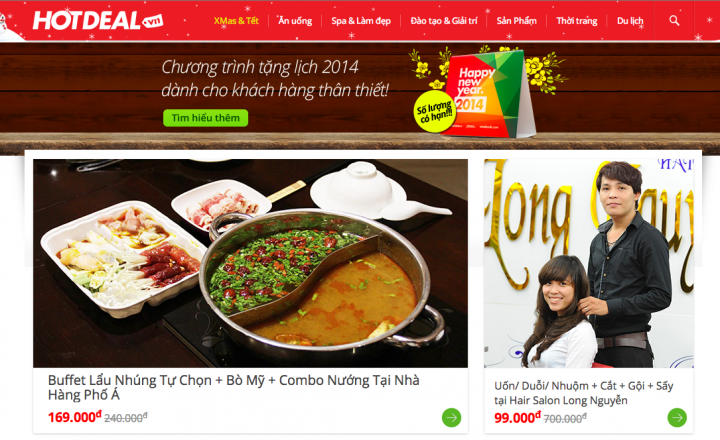 According to the CEO of Hotdeal.vn, Nguyen Thanh Van An, Lazada and Zalora ship no more than 2,000 deliveries per day in Vietnam. He claims Vietnam's top daily deals site trumps everyone else in the market with 10,000 deliveries per day. That's 300,000 deliveries per month. He says his closest competitor, MuaChung, barely breaks 3,000 deliveries per day. And recently, NhomMua and CungMua, the number three and number four daily deals sites, merged to surpass MuaChung's total. Nguyen is confident that he will maintain a strong lead over the market.
But the most telling thing I learned from Nguyen was not that he dominates the daily deals market (this is something quite well known in the industry) but that 70 percent of purchases on the site are actual products. Only 30 percent of Hotdeal.vn's users are buying coupons. That's right, it is only 30 percent a daily deals site. That means 7,000 of Hotdeal.vn's daily deliveries are products.
If that wasn't enough to blow you away, among the 7,000 products Hotdeal.vn ships per day, 3,000 of those are fashion items. Nguyen estimates that Vietnam's leading fashion site is Sendo.vn, which is owned and managed by FPT, one of Vietnam's largest and oldest tech companies. He thinks Sendo.vn ships up to 1,000 fashion items per day. Arguably, Hotdeal.vn is also one of Vietnam's biggest fashion sites.
From 2010 to 2013
Back in 2010, Hotdeal.vn had just started. It was going up against NhomMua, the rising star with over $60 million in funding. Fast forward to 2012, NhomMua had a huge management scandal leading to its fall from the top. A year later, Hotdeal.vn slowly crept up into first place. According to Nguyen, the team was bootstrapped and played a strong, conservative game:
In 2012, we estimated that we had the equivalent of 90 percent of NhomMua's marketshare. But our burn rate was much lower. In this market, if you go too fast, the cost will be way too high. Once we understand the market and customer, then you can hit the market harder.
Today, Hotdeal.vn is profitable. And looking into new verticals. Nguyen identified travel as one of the strongest verticals based on data from Hotdeal.vn, and opened up Yesgo.vn, a travel booking site that allows users to book hotels, plane flights, and tours to their favorite destinations. As Nguyen says, the site is aimed specifically at the Vietnamese market and has no lofty ambitions to expand like Agoda.com. He does want the site to be Vietnam's top travel booking site in the next three years, though.
According to Nguyen, the customers are now educated and looking for other opportunities.
In the beginning, in 2010, it was all about going to the site because of the discount. Usually, a discount you couldn't get anywhere else offline. But now, it's just about price and price comparison. People just want to get the best price for a product, they're not looking for discounts. They've expanded their view of online purchasing.
Before 2010, Nguyen started Vinabook.com, an online bookstore. The site still runs today in competition with Tiki.vn. He believes it's he and his team's experience at Vinabook.com that allowed him to execute so well with Hotdeal.vn. He thinks this is a key factor to successfully growing e-commerce in Vietnam.
In Vietnam, money is not enough. You have to have experience in your back pocket. The mathematics of going from one order per day to 10,000 orders per day is not easy. It involves pushing your marketing simultaneously with your servers, your operations, your customer service, and your overall understanding of the market. If we look at the recent failures in the e-commerce market, one of these key elements is lacking. Many of the failures this year pushed their market and spent too much on their staff before understanding their market or upgrading their operations.
(Editing by Paul Bischoff)