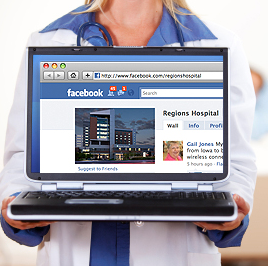 Social media has various utilities – Right from catching up with friends to business networking: social media has been explored in many ways (check out 18 Cool Things People Do On Twitter).
How about using social media for saving lives or at least trying to? Sounds like a great idea to me. Recently Agarwal's Eye Hospital- rated as one of the top 5 eye hospitals in India did exactly that.
In a bid to create awareness and educate people on health related topics, Agarwal's Eye Hospital has created presence on Facebook, Twitter & Youtube. Their plans are interesting. The hospital will disseminate information on eye care, common ailments, innovative treatments and research. Moreover, they have already allocated a dedicated team of 10 doctors on duty to answer queries from patients 24/7.
Talking about the exclusivity of the content, Dr Asvin Agarwal, director of Dr Agarwal's Group of Eye Hospitals said, "Tweeting from the operating rooms and posting surgeries on Youtube will be done even before we release any news to the media." He also added, "From now, every step of a complicated surgery can be read and viewed on these sites."
Here is an example:
Initiatives have also been taken in the past by Apollo Hospitals too. For instance, it ran a "Quit Smoking" campaign as a part of their awareness program to educate the public about benefits of adopting a good lifestyle and habits. On the other hand, some commented that such activities raise questions about a patient's privacy and present an overly rosy picture about complicated treatments.
In my opinion, social media should be used to create educate the public about various diseases and how to cure or prevent them. But patients' privacy must not be compromised in the process. Let us know your thoughts.
Connect with us on our new FB page: