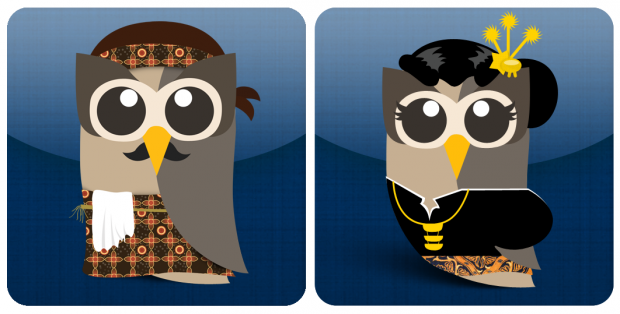 In its official blog, Hootsuite has announced that it is now available in Bahasa Indonesia. Writing in that blog, Stephanie Wiriahardja also points out that Indonesia has the third biggest user-base who sign up daily to Hootsuite. This release also comes with special addition of a "lady owl" (as pictured above), as part of Hootsuite's media kit called the owl family.
Hootsuite linked to an article of ours from earlier this year which identifies Indonesia as the world's chattiest Twitter nation – and that enthusiasm for tweeting is a big reason for Hootsuite's new language option.
The Twitter dashboard Hootsuite also plans to celebrate its release by hosting a Google+ hangout on Thursday, 30th August at 9 pm local time. Partnering with @TwitalkID, an Indonesian twitter account that's well-known for tweeting liveshows, Hootsuite will invite to the event the first 10 people to tweet to @HootSuite_ID account with the hashtag #HootIndo. The hangout will also be broadcasted live in Hootsuite's official YouTube channel.
I tried the new Indonesian localization (as pictured in the settings pane below) and, at first, it kinda feels awkward to see my "home feed" tab changing into "sumber berita" or my "mentions" tab changing into "sebutan". Of course many Bahasa Indonesia translations of tech terms will feel a bit awkward initially. I can think of some very peculiar instances from other sites like "unduh" for "download", "tautan" for "link", or even "tetikus" for "mouse". But of course I think that it's a good move on Hootsuite's part – and as an Indonesian user, I appreciate this localization.