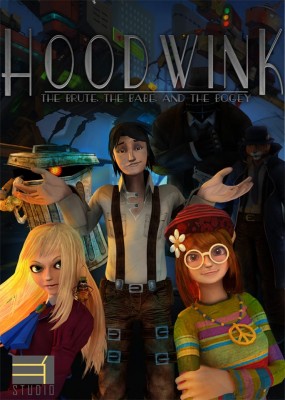 Steam Greenlight is the Kickstarter for game developers, but instead of pledges, the developers need to get people's support so as to earn a spot at the Steam online store. We previously talked about a Malaysian-built, Japanese game which is up for voting called Alpha Kimori. This time around, there is another interesting Malaysian-built game at the site, called "Hoodwink: The Brute, the Babe, and the Bogey" created by E1 Studio. We talked to Amir Irwan, the executive producer of E1 Studio about the game's prospects on Steam.
Hoodwink tells the story of a Michael Bezelle, who prefers to call himself an 'acquisition expert' rather than a 'thief,' in his adventure to outwit the last surviving corporate giant called 'UniCorp.' The game uses cell shaded art with a post-apocalyptic atmosphere setting. The graphics, music, and sound are all quite good.
Amir explained that the inspiration behind the game is the classic adventure games like Monkey Island, Grim Fandago and Full Throttle. He also said that the movie Blade Runner was the inspiration behind the architectural environment. He adds:
The game was 100 percent developed in Malaysia from all aspect (tech, art, and design). The music was scored by an award winning music composer, Leon Willett, who has offered himself to work with us.
Steam has the sole discretion to choose 10 games every month. Amir told me that Hoodwink has received good feedback and is currently sitting at number 66 [1] on Greenlight out of 3,000 submitted games there.
You can check the Hoodwink game here. If you like the game, be sure to support them there.
| | |
| --- | --- |
| | |
| | |
---
Amir said that Steam doesn't disclose the rankings to public, because the company wants to ensure equal attention for all games by all voters, no matter how new or old they are in the system.  ↩