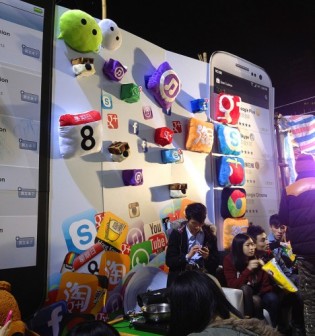 Earlier today we looked at statistics from game developer Animoca that show the Samsung Galaxy range of phones totally dominating in India. While that's not quite the case in Hong Kong, the same research reveals that eight of the top 10 Android phones observed on Animoca's games in Hong Kong were made by Samsung.
The only two interlopers were smartphones made by Sony, with the Xperia Arc S being the sixth most popular phone in this survey. But on the whole, Samsung's big-screen phones are performing well in Hong Kong, led by the sizeable Samsung Galaxy Note 2 as the Android market leader. The newest Samsung Galaxy S3 hasn't quite surpassed its predecessor, the S2 (see table below). As a whole, the Galaxy S series have racked up over 100 million in sales, and Hong Kong is clearly one of the developed markets where consumers want high-end new smartphones.
Hong Kongers' desire to be on the cutting-edge is shown by the versions of Android OS that are being used. On Animoca's gaming platform, the developers found that most Hong Kong mobile gamers – a full 21.2 percent – are on Android 4.1.1 (jelly bean) right now; a further 19.3 percent are on Android 4.0.4. The game developer says that these statistics show that companies making apps and mobile services need to look carefully at particular markets and not just think of averages across Asia; that's because countries where consumers opt for older and cheaper phones (like India or the Philippines) can really skew the data and cause you to underestimate the demands of customers in more developed markets.
Here are the top 10 phones in Hong Kong in this study, which took place from January 15th to February 15th:
| Ranking | Android phone | Market share (%) |
| --- | --- | --- |
| 1st | Samsung Galaxy Note 2 | 14 |
| 2nd | Samsung Galaxy S2 | 13.6 |
| 3rd | Samsung Galaxy S3 | 12.7 |
| 4th | Samsung Galaxy Note 1 | 9.1 |
| 5th | Samsung Galaxy Ace | 3.6 |
| 6th | Sony Xperia Arc S | 2.1 |
| 7th | Samsung Galaxy S | 2.1 |
| 8th | Samsung Galaxy SL | 1.8 |
| 9th | Sony Xperia S | 1.2 |
| 10th | Samsung Galaxy Y | 1.1 |
(Image: HongKongHustle)