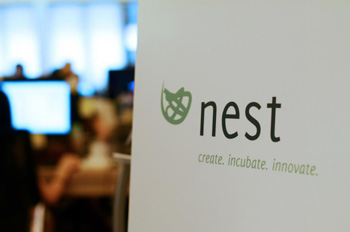 If you can build a business and pitch it, then give Nest Ideas a shot. The Hong Kong incubator hosts a pitch day on the last Saturday of every month. If you'd like to participate, send your application to Nest Ideas and then you'll get to pitch if you receive the green light. Successful startups will be offered HK$500,000 (US$64,515) coupled with mentorship, office space, and legal and accounting support.
Nest Ideas was founded by Simon Squibb about two years ago. He is passionate about entrepreneurship and has had a couple of startups in the past. The first in Hong Kong, he said, was a creative agency called Fluid, founded in 2000. Squibb claims that Fluid is now one of the Top 5 creative agencies in Hong Kong, doing work for high profile brands like The Wall Street Journal and Starbucks.
He feels that there's a big gap in Hong Kong whereby few organizations are supporting startups from an entrepreneur's perspective. He explains:
Entrepreneurs need a lot more than just office space to make a company work. Advice and mentorship from entrepreneurs that have been there and done it, for example. Contacts and support generally are as important, if not more important, than just the cash invested by funds like us.
So far, Nest Ideas has nested nine startups. They are mainly in the lifestyle- and consumer-focused business with elements of using online as a channel to promote and sell. They include Porter House, an e-commerce service for high quality meat); CGFX, an event for comics, games, and films; and Millionaire Asia, an invitation-only club for wealthy business folks.
Squibb claims that one of the companies they've backed, Foodie, was recently valued at HK$25,000,000 (US$3.26 million). The startup is an online food and recipe directory which Nest Ideas invested HK$1,000,000 (US$129,031) in 18 months ago. He concludes:
I personally enjoy helping entrepreneurs. I am one. So I know what is involved and the struggles and opportunities ahead. I talk the language needed to get entrepreneurs to listen and scale quickly.