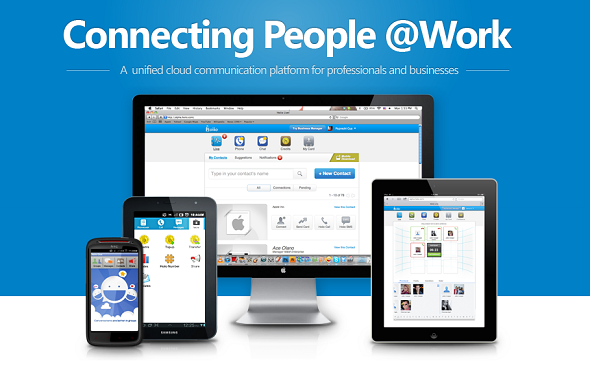 Chances are, if you own a smartphone, you would know Facebook Connect. You may not know its name, but you've definitely used it. It's essentially a service that allows you to bring your Facebook identity into other apps or websites.
For example, if you download Scramble with Friends, you can play the game using your Facebook identity, and even find out which of your Facebook friends are also playing the game so that you can compete with them.
Well, it turns out Singapore-based Hoiio is working on a similar idea for its suite of mobile apps, except that it's called Hoiio Connect, revealed co-founder Junda Ong.
But while Facebook is motivated by the desire to get Internet users perpetually connected to its social network, Hoiio wants to get people hooked onto its communication services.
For those who are not familiar with Hoiio, it is a mobile communications startup that is developing apps revolving around calling and texting.
Most recently, it won the People's Choice's Award at DEMO Asia 2012, a tech launchpad for startups in Asia.
It turned out that the company was actively canvassing for votes by automatically sending out SMSes using a mashup of a Google Spreadsheet and its product, Hoiio API. The API allows developers to easily add voice and text functionality to their mobile apps.
That extra step secured them the award.
They have many consumer-facing products as well: There's Hoiio Phone, a Skype-like app, Hoiio Chat, a free messaging app, and Hoiio Live, a just-launched phonebook app that syncs your contact information with your friend's.
They're also planning to unveil Hoiio Business, essentially an enterprise version of Hoiio Phone, and Hoiio Conference, an app for making conference calls. Business professionals and developers are their main target groups.
Tying all of this together is Hoiio Connect, now in private beta. While their API allows developers to add voice and text functionality to their apps, Hoiio Connect takes this one step further, allowing users to log in with their Hoiio account and access their own data.
As Junda puts it, Hoiio is doing something unprecedented as there hasn't been "a cloud communication suite where the end goal is for third party developers to publish apps on."
While there are many startups in the United States, like Twilio and Tropo, that overlap with what Hoiio does, Junda is certain that his company has the advantage in Asia.
Since 2007, they had been establishing their telecomms infrastructure in Singapore, Hong Kong, Australia, and Vietnam. Market fragmentation in Asia means that outsiders will find it difficult to enter into play.
Already, over 600 developers, many from the region, have started integrating Hoiio API into their own services. InSingTravel now allows users to call travel agents with a single click. Startups like PropertyGuru, Drive.sg and SmartInsurance are also using the API (see Hoiio's showcase).
With a headstart in Asia, they are now looking to the West.
One of Hoiio's prizes for winning DEMO Asia is a slot at DEMO Spring in mid April in Silicon Valley. They will be launching their API there.
Let's see if they'll be able to win over the crowd there with the same sort of ingenuity they displayed at DEMO Asia.
Video interview with Hoiio: