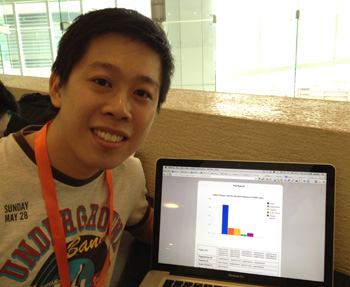 Hoiio provides an API for developers to add voice and SMS features into your apps. With its API, you can do a call poll, for example: 'Which startup is the best at Demo Asia?' This is a question which Hoiio candidly posted to the floor.
An app which uses the Hoiio API could also set up automatic call options for customer service. This is the kind of press-1-for-this and press-2-for-that type of phone menu that you have likely heard before when calling some companies. Other possibilities include conference calling, SMS engagement, lucky draws via phone, and many more. The service is also available in 20+ languages, including English, Japanese, and Chinese.
Of course, the carriers could do all this but it would be very expensive. Only TV shows like American Idol can afford to collaborate with the carriers in this way. So the Hoiio API removes the barrier and makes it a level playing field. There are charges but you only pay for what you use.
To date, Hoiio claims to have 500 developers using its API, including inSing and PropertyGuru. The startup actually started way back in 2007. I spoke to the co-founder of Hoiio, Junda Ong (pictured above), who revealed that his team has raised a total of SGD$3 million (US$2.4 million) over four years from angels. The immediate goal is to get as many developers as possible to use its API. The startup has also attracted interest from investors, but Junda remains mum about it for now.