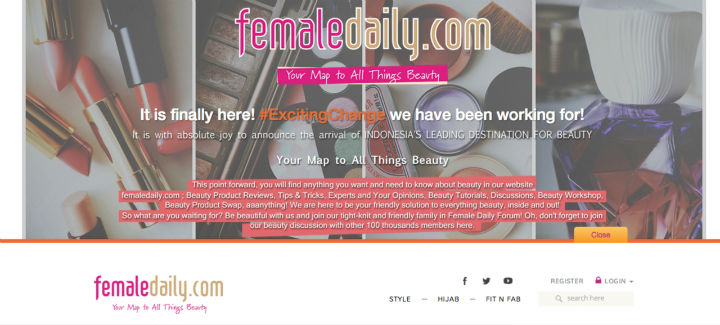 Indonesia's Female Daily Network has got a lot on its plate. The network group ran a few women-oriented subsidiary sites including style and beauty site Fashionese Daily, parenting site Mommies Daily, travel site Travelers Daily, social network Clozette Daily, and user forum Female Daily. Today the group announced that they have relaunched Female Daily and have closed down Fashionese Daily and Travelers Daily. What happened?
Co-founder Hanifa Ambadar explains that the company wants to be very focused on what it does best: beauty. 70 percent of the content consumed and shared on the network is beauty-related, more than 60 percent of active threads on the group's forum are about beauty, and most of the team's key clients hail from the beauty and cosmetics industry. The beauty market size isn't a bad one either.
(Read also: Female Daily: Founded By Female Entrepreneurs Especially For Females)
The new Female Daily is no longer a stand alone forum. Instead, it is now filled with beauty-related articles and product reviews. The site now aims to become the number one beauty destination for women in Indonesia.
The Female Daily team is particularly excited about its new beauty review page. Launched quietly back in November, the page now features listings for 218 brands and 718 products, along with a total of 1,679 reviews by 207 reviewers. They hope it can be the most comprehensive directory and analytics tool for beauty products in the country.
Things are going very well for Female Daily Network. In 2013, it recorded a staggering 73 million pageviews from 21.4 million visitors. It now has over 110,000 registered members, 25 full time employees, and has been profitable since 2010. The team raised $180,000 seed funding from angel investors in January 2012.
A potential challenger in Indonesia for Female Daily Network is Beautiplan, a social network for beauty enthusiasts. There are also other female-centric media outlets competing for market share, like Fimela from Octovate group and Vemale from KapanLagi group.
(Editing by Josh Horwitz)