We saw the India-made messaging app Hike launch last summer and then go global in December. In the fast-moving world of social media, that means it's time for another update. This week, the New Delhi-based startup has rolled out Hike v2.0 – across iPhone, Android, Windows Phone, and Symbian – that aims to connect you more directly with what your friends are feeling.
The updated Hike app now has status updates and moods, so you can tell your buddies how you're feeling with a fairly big emoticon. We've seen virtual sticker packs and large emoticons to be an integral part of the success of rival Asia-made messaging apps, like Line and KakaoTalk, so they're clearly popular. Hike emoticons can also serve to reflect your status update, and you can even view your circle of friends by their mood within the app: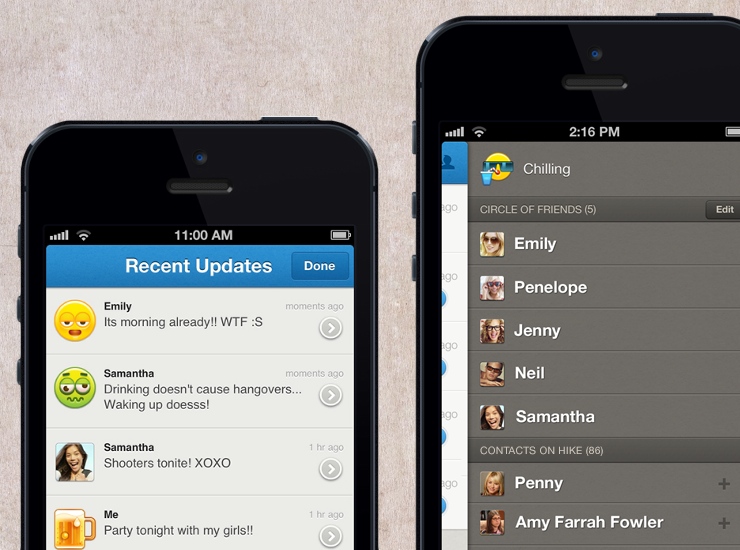 That latter feature is also a new one, dubbed 'circle of friends'. Other useful new additions include a mute option for notifications. Plus, the new status updates now show up in WP8 homescreen tiles and on iOS they'll appear as a number in the counter; Android users will have to wait for a further update to see how status updates get pushed to them.
It's a pretty fun update while still keeping the app simple. Kavin Bharti Mittal says of this new aspect, "Now you can share what you're thinking about or what you're up to in real-time with your close friends. You can still message anyone on your address book, yet at the same time share those intimate and personal moments with your close friends."
Just the other day, Whatsapp revealed that it has 200 million active users – yes, active – which is mightily impressive for a service that we often mock on this blog for being dull and not very innovative. But that huge number shows that not everyone wants social games and all the bells and whistles of some newer messaging apps, so Hike still has a chance to win over such users to its elegant and fairly minimal app. And the market is far from saturated yet.
Get the app download links via the Hike homepage.