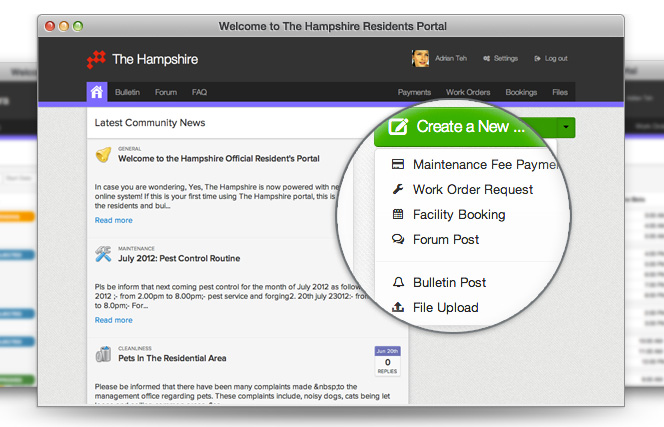 Made in Malaysia, Highrisepro is a SaaS for property management, specifically for condominiums. It does a load of things for building management and property developers ranging from online payment, SMS notifications, and online booking of facilities. Is there a need for such software? Yes, according to co-founder Adrian Teh. I haven't had the luxury to live in a condominium before but Adrian told me that residents face many problems with management who don't embrace the internet.
For example, most residents go to work from 7am and return around 8pm. By the time they return, the building management folks have already knocked off. This makes communication hard. They can call and email, sure, but making online payments and booking facilities would be tough since you need to be physically there if you don't have any online medium.
So using Highrisepro, building management can now accept monthly maintenance fees and facility booking 24/7. Perhaps they wouldn't really need so many people to run the building with an online solution like that too! Adrian added:
We also provide broadcasts bulletin announcements to residents via email and SMS. So residents get instant notification on community updates. Highrisepro is fully managed, so property management companies as well as property developers can instantly offer and deploy to their properties without having to worry about servers, installations, and maintaining their own IT workforce.
So far, Highrisepro has over two communities (with over 800 residential units) using its product. Every property is charged a minimum subscription fee. Besides running Highrisepro, the team, with co-founders Yuvan Kumar & Ahmad Yazid, also run Leanis Solutions, a company that specializes in Ruby on Rails web app development, business intelligence, and data warehousing consulting. Revenue from Leanis is currently funding the development of Highrisepro.
We are still learning from the market as we grow. There are plans to incorporate property management accounting features as well as other more administrative features into Highrisepro. In the near future, we intend to roll out features that helps us achieve our vision to provide the best integrated living experience to homeowners and tenants, such as online collection of rental by landlords and online groceries.
The solution looks promising. Though there are similar products in the U.S. like Appfolio and Condo Manager, but they are not quite ready for the Asian market.