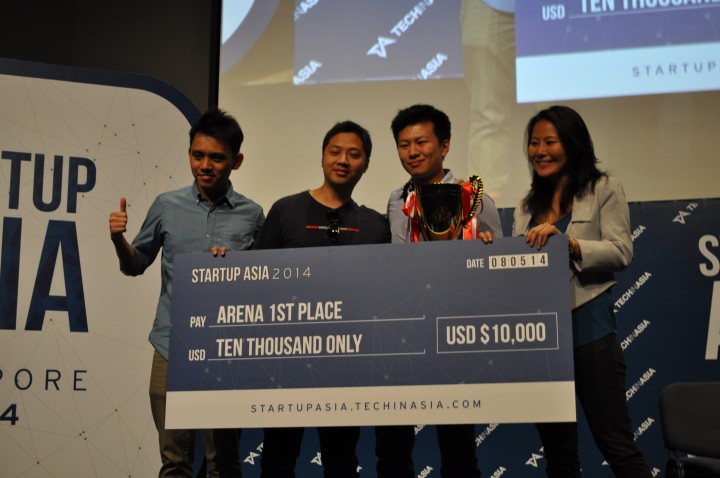 Debate: The future of bitcoin in Asia
We kicked off our fourth and final quarter of Startup Asia with a debate on the future of bitcoin. Richard Jerram, chief economist from the Bank of Singapore, and Aurelian Menant, the co-founder and CEO of Gatecoin, a Hong Kong-based digital currencies financial institution, took to the stage to kick off the afternoon sessions with a debate about the future of Bitcoin in Asia. The debate then boiled down to the essential question of: can bitcoin become mainstream? Can it replace the dollar?
Jerram saw this as an unlikely outcome. He is not yet convinced as to how it adds value for consumers. He explained that, as an advisor for wealth management, he could not recommend bitcoin investment to his customers because he is not yet convinced of the product's real value.
@wentjun i feel traditional currency won hands down.
— Beavan Chua (@beavanchua) May 8, 2014
In response, Menant emphasized bitcoin's potential for disrupting industries besides banking. He gave the example of using bitcoin, with its ability to prevent fraud via verified accounts, to simplify the process of contract signing. In closing, he reminded the audience that 20 years ago, the internet was described in similar terms as an untrustworthy product favored by the fringes of society. Mainstream adoption of new technology can simply be a matter of time, he advised.
After the debate, the audience at Startup Asia Singapore was asked to vote for which argument was more compelling. After tallying the final results, Richard Jerram was declared the victor.
Money transfers – the new frontier of customer satisfaction?
Taavet Hinrikus, CEO of Transfer Wise, a financial services company for international money transfers, gave a keynote titled "It is the fast that eats the slow – disruption from telcos to banking to anything." He noted that the shift from analog to digital over the past 15 years has resulted in consumers expecting cheaper, faster, more transparent goods and services. Hinrikus gave ecommerce and film as examples of industries where the goods and services are matching consumer expectations. Finance, on the other hand, is lagging behind.
Lessons that Skype taught Taavet Hinrikus 1/. Team. 2/. Location. 3/. Keep users in mind. 4/. INNOVATORS' DILEMMA #startupasia

— Sushobhan (@sushobhan) May 8, 2014
Two billion SGD transferred by TransferWise, a venture funded by Peter Thiel. Wow! #startupasia
— Sushobhan (@sushobhan) May 8, 2014
He acknowledged that shifts in the financial industry are slow to take shape since it is so tightly controlled by government policies. Even so, the industry is feeling a pinch right now because consumers have heightened expectations and "bankers have really screwed up [the public] trust on their own". Therein lies the challenge facing his, and other such disruptive start-ups. His recommendation for building up that trust, is to "engage in PR… people trust what is in the press."
Moving beyond the "shithole mentality" in Southeast Asia
Following a break, 500 Startups' Khailee Ng gave a keynote presentation in which he described how his career as an entrepreneur-cum-investor led him to reevaluate his feelings for his native Malaysia.
Ng stated that he spent his youth wrapped up in a "shithole mentality," resenting the Malaysia's internet ecosystem for not being as exciting as that of Silicon Valley. While he managed to get a degree in the States, he ended up back home after graduation. Ultimately, it was entrepreneurship that led him to transform his "shithole mentality" into a keenness for spotting opportunity.
500 Startups' @khailee talking about changing mindset in Southeast Asia. #StartupAsia

— Joshua Kevin (@jshkvn) May 8, 2014
"Everything outside is too slow. We're now moving at the speed of internet." @khailee 500 Startups #startupasia pic.twitter.com/VZ9H948qCh
— Clara Chen (@ClaraMChen) May 8, 2014
While working on building his first startup, Ng realized that there was only one Ruby on Rails developer he could count on to work for him. After learning his first-choice hire wasn't available, he paid that candidate's friend, who at the time was teaching himself Ruby on Rails, to tutor Ruby on Rails to another developer. Despite the bare-bones talent, Ng's investment set off a chain reaction of Ruby on Rails talent in Malaysia, and his makeshift team of amateurs went on to land gigs at high-profile international firms like Facebook.
3 Super tips from @khailee for founders to get successful. Wake up and change! #startupasia pic.twitter.com/kFo1bEm5fG

— Tabluu (@TabluuApp) May 8, 2014
Xiaomi's neverending iterations
Xiaomi's Hugo Barra flew in from Beijing to chat with Tech in Asia's Willis Wee about the company's growth and its future.
Barra explained how the company's internal organization and culture bears some resemblance to Google. The company is headed up by no less than eight founders, each of whom is responsible for an independent part of Xiaomi. But each of those independent sub-groups keep the Xiaomi machine running.
Is #xiaomi the Apple of China? No, we're much more than that. #startupasia @Techinasia @hbarra

— Alarice Soh (@alaricesoh) May 8, 2014
Hugo Barra from #xiaomi "take feedback at scale, iterate fast, be nimble, work with small teams" #startupasia pic.twitter.com/YLhLL8ZURR — Ville Kulmala (@villekulmala) May 8, 2014
In addition, Barra explained that the company sells its smartphones exclusively via online flash sales because it lets the company act quickly on user feedback. Barra recalled one instance when buyers of a brand-new device reported that dust was clogging the speaker grills in their phones. Rather than being stuck with hundreds of thousands of semi-faulty devices, Xiaomi corrected the design flaw and shipped out a fresh batch in two weeks. "We make as many as we can in one week and then sell it the following week. Then we make as many as we can the next week and we sell it the following week," said Barra. "This allows us to iterate."
Hugo Barra on pricing: Price at cost, as the components price will drop. #startupasia pic.twitter.com/Csa0ks62z8 — Roger Chang (@rogermcchang) May 8, 2014
Startup Arena hit by flying debris
After a much needed break we dived right into our startup face-off, during which ten fledging companies pitched to investors and received live feedback. The winner of the US$10,000 grand prize? Bindo, a Hong Kong and New York-based team that built a point-of-sales system for brick-and-mortar retailers.
.@shopbindo at #startupasia. A retail platform that bridges online & offline retailing. Interesting. @Techinasia pic.twitter.com/rPiCsS3oP7

— Alarice Soh (@alaricesoh) May 8, 2014
#startupasia Arena Battle audience vote winner: Bindo! pic.twitter.com/2te5H9UpcM

— Tech in Asia (@Techinasia) May 8, 2014
The unofficial crowd favorite? Astroscale, a startup that removes debris from outer space. Yup.
Omg #SPACE! Astroscale has big dreams to eliminate space debris. Raising $50mm. @elonmusk? #startupasia @Techinasia pic.twitter.com/PJbj5ZLg4G

— Alarice Soh (@alaricesoh) May 8, 2014
It was yet another case of "which one of these is not like the others." Perhaps it's about time VCs start looking into the space space.
Keeping startups culture in Southeast Asia lean and mean
We closed with a quick word from Meng Wong, founder of the Singapore-based JFDI accelerator program. Wong noted that entrepreneurialism has become somewhat of a dirty word in many parts of Asia, with most elders associating the word with survivalism and the third-world economy they labored to move past.
Nice one @mengwong #VC=#hunter vs. #accelerator= #farmer #startupasia

— Jean-Pierre Sedaghat (@jpsedaghat) May 8, 2014
Wong wasn't shy from directly addressing the challenges of building a trans-national startup in Asia, but he remained optimistic nonetheless.
"The guys in the US have it really easy. They've got one currency, one landmass, one language – if you build it, you can sell it. The EU folks have started to figure it out. But in Southeast Asia, it's tough. We've got 11 countries, not including India, each with its own currency, and something like 50 languages. But I still think there's no better time than now to build a startup in Asia."
That's a wrap folks! We had an amazing time at this year's conference. See you in four months for Startup Asia Tokyo 2014!
This is a part of the coverage of Startup Asia Singapore 2014, our event running on May 7 and 8. Check out all the Startup Arena pitches here. You can follow along on Twitter at @techinasia, and on our Facebook page.