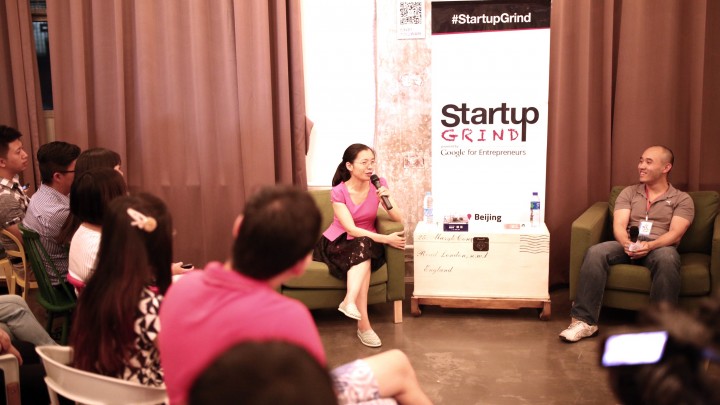 Gong Haiyan is one of the most celebrated female tech entrepreneurs in China, having successfully founded Jiayuan (NASDAQ:DATE), China's answer to Match.com, back in 2003. She served as its CEO through its IPO in May 2011 and until December 2012, when she voluntarily stepped down to begin another entrepreneurial journey.
Gong has since gone on to found another venture-backed company in education technology that currently operates two websites, 91waijiao for English learning services, and Tizi, an education resource and curriculum management site for elementary and junior high school students, their teachers, and parents.
Startup Grind Beijing, a participant in the May 2014 #40forward campaign by Google for Entrepreneurs, was very fortunate to Gong for an intimate fireside chat on Tuesday, May 27 at Beijing's Tech Temple co-working space. Given her stature and gender, I was not surprised that a good third of the hundred-plus audience was female and well-versed in the Jiayuan story.
To start off, host Gordon Chen asks Gong how she came to name herself Xiaolongnu, or "Little Dragon Girl," the name of a beautiful and much-adored heroine in one of the most beloved Chinese martial arts classics of all time, Legend of the Condor Heroes. It elicited some laughter from the audience, because Gong is famous for her plain appearance. She says:
First because my last name, Gong, contains the character for dragon, second because I am born in the year of the dragon, and third because on the Internet they call girls who look like me 'dinosaur,' which also contains the word Dragon. I knew it would be one of those nicknames that would at least warrant a second look, and even though there were many people who would email me and beg me not to 'abuse' their revered heroine's nickname, I still stuck with it and here I am today."
Ridiculed for being plain
The above story is Gong in a nutshell: direct and unapologetic, persistent and thoughtful. Unlike many of her peers who made it in the first wave of the internet gold rush in China during the late 90s and early 2000s, she was not the typical returnee entrepreneur who had received advanced degrees from prestigious universities abroad or at least studied engineering.
Her unlikely journey begins in Taoyuan county of Hunan province, in a poor farming family. She excelled in school, but a car accident when she was in junior high put the family in debt. Eager to rectify the family's finances, she dropped out in the eleventh grade, convinced her father to borrow RMB 3,000 (about US$400 at the time) and opened up a store selling snacks and nicknacks to students.
To her surprise, the store made RMB 8,000 (roughly US$1,000) in profit that first year, and she was even more convinced that the decision to leave school had been a good one. Leaving the store in her family's hands, she went to the southern coastal city of Zhuhai to work in a factory in search of greater riches and adventure. Although the work was numbing, after a few months, she was able to stand out by winning an essay contest for the factory's internal newsletter due to her superior writing skills, and she worked a desk job for the next two years.
For Gong, chance occurrences seemed to direct a lot of the major changes in her life, and perhaps the most important one came when she was 21 years old. She realized that she left school too hastily after a visit from an old classmate.
"When he told me about what our other classmates were doing, enrolling in fancy universities and getting white-collar jobs, I thought to myself, I wasn't stupider than any of them. If they can do it, I can do it too."
She abruptly left Zhuhai and was determined to return to school. Although it was three years after she voluntarily dropped out, she got accepted at one of the most prestigious universities in China upon graduation – Beida, or Peking University in Beijing. She then continued graduate studies in news journalism at Fudan University in Shanghai, where the idea for Jiayuan was born. She was consistently a few years older than her male classmates and, much to the chagrin of her mother who fretted over her marriage prospects, found it difficult to date among her peers.
There were a lot of matchmaking websites at the time, but they all required users to pay for membership and were full of fake data. When she confronted one of the companies about their fraudulent practices, they refused to refund her money and even made fun of her appearance. Furious, she called a friend who knew a thing or two about websites and decided to make her own.
She took two weeks to learn Frontpage, a webpage making software, and created the first version of what would later become Jiayuan. In retrospect, she says that she had no idea what she was getting into, no inkling of the long and arduous road that lay ahead of her. Had the matchmaking website refunded her money, she might never have started Jiayuan. She has also since then, somewhat humorously, instituted a rule in all her ventures – users who demand a refund are promptly given one, no questions asked.
What followed was a lot of hard work, but some strokes of luck as well. Because she was studying journalism, she had fellow classmates and acquaintances who were involved in various media publications. Getting coverage was relatively easy; soon she found her project featured first in the Fudan school newspaper, and then a magazine facing graduate students at large.
But Gong remembers very well those first 800 to 1,000 users, whom she calls "angel users." The very first one who signed up was a man who had responded to her friend's photo – a pretty girl. She mostly recruited them one by one from her own circle of friends, or via online forums. Never underestimate how important those first 1,000 users are, she says. Only when you have those in place, she advises, should you startup thinking about fundraising and then hiring.
When she was considering her second venture, she narrowed her choices down to healthcare and education, two large market opportunities (backed by Baidu keyword pricing data) that can also deliver a lot of social good. Many of her friends and advisors thought she should get into the beauty or even plastic surgery business, which would complement the resources at her disposal through Jiayuan.
"A huge problem at Jiayuan was that 80 percent of the hits would be directed at the 20 percent most physically attractive girls on the site. We couldn't actually help many of the girls on the site, and maybe making them more beautiful would have made a meaningful change in their lives," Gong says.
One of her investors, prominent angel investor Xu Xiaoping, even told her that the beauty business would have allowed her to leverage the large number of female fans she had from her Jiayuan days. And besides, if she could come up with a product or service that could change her own plain appearance, she would be her own best spokesperson yet again.
But upon doing more research and understanding the significant health risks involved in such procedures, she settled on education because of her personal experience. "I am a perfect example of someone whose fate was completely turned around by education."
Non-entrepreneurs now considered unambitious
Gong also had a lot to say about the current environment in China. The entrepreneurial landscape is very different now compared to ten years ago when she started her first venture, she says. Back then, people generally thought doing a startup was a strange idea. But now if you are a young person who's not pursuing an entrepreneurial path, you lack ambition. "The number of entrepreneurs is higher now by about 100 times, which makes it more competitive as well, by about 100 times".
Opportunities are also far fewer and far between, unlike in 2003 when there was "plenty of whitespace." So, even for an experienced founder like her, she finds it tough to compete. Not to mention, China's internet industry is famously hardworking. "The nine-nine-six tribe rules nowadays," Gong says, referring to the fact that many startup employees are expected to work six days a week, from 9am to 9pm.
When asked why she continues to pursue entrepreneurship when an early retirement is within reach, Gong says she just has a love for toiling. She's never had a high requirement for material enjoyment, and so the pursuit of money for its own sake has never been able to sustain her interest.
She mentions somewhat proudly that she and her husband had a "naked marriage," a popular term in Chinese meaning that neither side brought much to the table in terms of wealth – RMB 8,000 (US$1,280) in her husband's savings account, to be exact. In preparation for her second venture, she sold her million-RMB villa to invest in the company and is now "just a renter" – unfathomable for most thirty-something executives in China, where owning property seems to top everyone's priority list in their pursuit of happiness.
Check out the full interview and Q&A with Gong Haiyan, plainspoken farmer's daughter-turned-serial internet entrepreneur here.
The next Startup Grind Beijing event will be held on Wednesday, June 25th at Tech Temple, and will feature Chen Yu, the co-founder of Yeepay. Yeepay is a leading third-party payment service in China and counts DFJ, Intel Capital and W.R. Hambrecht among its investors. To RSVP, please click here (Eventbrite) or here (Huodongxing).
See more interviews in our Female Entrepreneurship series: